A Community for the People, By the People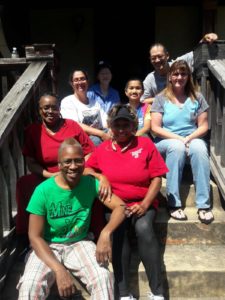 Have you visited the GKC Trade Market on Sundays? A group of volunteers host a bountiful trade market on the main level of our offices for two hours, most Sundays. (We are closed the Sunday of Food Delivery weekend.) Food available on Sundays is provided by our many rescued food donors who care far beyond their business sales. Each donation surprises the palates of friends, neighbors, family and "strangers" who receive a blessing when Grace Klein Community members stop by their homes after visiting the GKC Trade Market.
Define "Trade?" We are glad you asked! Grace Klein Community teaches the concept of "What's Mine is Yours." If we all share what we have, we will all have what we need. Have certain items been sitting in your pantry for longer than a year? Chances are, you probably will not be consuming them any time soon. Truth be told, that can of baked beans isn't your favorite, is it? Bring that can of baked beans to trade, along with the excess pears from your pear tree, the cartons of eggs from your chickens, the books you are no longer reading and that spice you only used once for a special recipe. Think outside the box of what you have to trade and make sure you contribute to the GKC Trade Market. Time, resources, finance, talents… you get the idea. One time, we found a rooster in the basement that someone brought for their trade. Yes, we are not joking. And he was alive.
There are many who make Sunday Market possible, but today we want to focus on our food rescuers who commit one night every single weekend to go pick up the food and our food rescuers during the week.
A team of young singles embrace Friday night donation pick-ups like the society embraces the nightlife. Another team of two families share their Saturday night's serving together, taking full advantage of their family time with their teenage children. No better time than a chilled Sunday evening for friends to sneak away from the responsibility of stay-at-home moms and serve in secret together. These teams not only pick up the food, they unload, sort and store the food items where they belong. Every item has to be accounted for and large loads extend well into the night.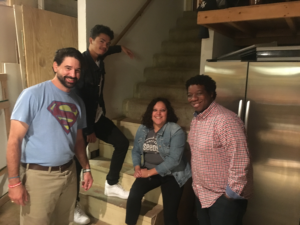 In addition to the evening pick ups, another family coordinates food pick ups on Saturday and Sunday mornings, while other volunteers pick up food donations twice a week from a local grocery store, benefiting families and churches around the city, as well as the GKC Trade Market.
On Sunday mornings additional teams joyfully serve the community by hosting the GKC Trade Market. In general, three to four different teams host market each month and a minimum of seven or eight different volunteers jump in to set up, host and clean up after market.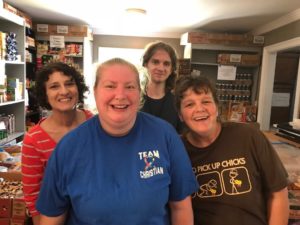 Grace Klein Community volunteers are 100% the reason the weekend shares are possible. In case you have lost count of all these numbers, between 20-25 volunteers are needed to make the Sunday GKC Trade Market possible. A community for the people, by the people is evidenced by the weekend shenanigans.
We always have room for more helping hands. Email natalie@gracekleincommunity.com to get involved.