A Visit to the Orchard
Consider what you do with your days. Maybe you are a teacher and spend hours developing lesson plans and teaching what you know to high school students? Maybe you are a bookkeeper and meticulously enter every dollar in and every dollar out? Maybe you manage people and every day you are responsible to motivate people to do the tasks they were hired to do? Maybe you are a landscaper who manicures lawns? Maybe you cater huge business lunches or intimate gatherings? Or maybe you are a mama to six kids?
No matter what you are doing with your time, I suspect your hope is the labor of today mattered, that the hours you spent working with all your might accomplished something.
Now, consider the farmer. He's a wealthy farmer and he has acres of farm land. He is a businessman, trusting the laborers in the field will harvest quickly the yield the fields have produced. Then, he sells the cases, thousands of them, and they are shipped all over the country to be sold to consumers.
But sometimes a sale falls through, or the order is too large, or the product is not perfect for the supplier who ordered the fruit. The cases of fresh produce find themselves stranded in a "middle man" warehouse. In Birmingham, AL, a little non-profit named Grace Klein Community is rescuing some of these stranded cases before they make there way to a landfill. How? A produce company is donating the food instead of tossing it and then community volunteers are helping distribute the food to families who need it.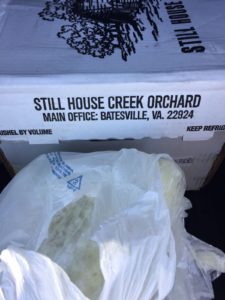 One of our volunteers just so happened to be in Virginia and remembered the box of peaches that came from this very farm. Here's the picture she had taken of a box she personally gave away a month or so ago. She sent us that picture and wondered if we remembered the peaches?! Of course we did, we had collectively shared over 15 cases.
Then our GKC trade market group received this message from her:
"I had the opportunity to speak with the president of the farm… We are talking hundreds, if not thousands, of acres of peaches, apples, grapes, pumpkins… I made it clear to him that, thanks to Grace Klein Community, the fruits of his labors… and of his laborers…are not being wasted in Birmingham, Alabama."
Of course we wanted to know more of her little adventure of visiting this farm in Virginia so here is the rest of the story…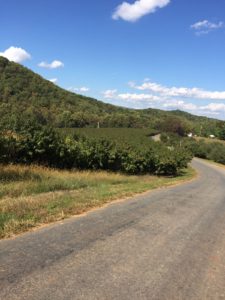 She remembered the name of the farm from the peach boxes and decided to stop by and let them know that their labor was not in vain. She wanted them to know they had spent their days working the fields and reaping the harvest, and from a bunch of no name volunteers, they don't know and would never meet, in Birmingham, AL, their peaches, that were not selling, for a variety of reasons, were making it into the homes of families who needed food! The work and effort and long days were not wasted. In small ways, we were keeping their investment into the hands of people and out of the piles of wasted food that end up in the landfills.
She moved up the chain of command and was able to talk directly to the president of the peach farm, Mr. Chiles. She did not take much of his valuable time, but she did get to explain …. "thanks to Grace Klein Community, the fruits of his labors… and of his laborers…are not being wasted in Birmingham, Alabama."
The owner's youngest daughter gave her a tour of the facility and she got to know one of their employees named Don. These two people were happy to learn that the food they were producing is feeding hungry people in Birmingham, Alabama. When Don found out what Grace Klein Community does with the food that local stores thrown out, or would have thrown out, he wanted Mr. Chiles to be made aware of it and that is how she made her way to the president.
Our volunteer shared, "I was raised on a farm. Don and Mr. Chiles's daughter and I know what Grace Klein Community knows, "The success or failure of a harvest is in God's hands."
Years ago the saying was:
"Some years the baby gets shoes, and some years she doesn't." Farming is filled with as many risks as the number of days needed for a harvest. This year's apple crop in that part of Virginia is low because of a late freeze and a few other factors.
We realize that food is a gift from God. It's something precious. And we are grateful for the opportunity to feed "the least of these" with it." – Cheryl Oatts
Let us continue to cherish the ways the rescued food connects us to people, to the people we need to help and to the people we need to thank. The labor of the laborers is never in vain. Teach those students well. Keep the books accurate. Nurture the people entrusted to your care. Trim the bushes with excellence. Cater with excellence. Do the next hard thing. Just as the laborers in the peach field were reminded that their labor was not wasted, let us look past the right now and realize our labor is never wasted either.
"The land yields its harvest; God, our God, blesses us. May God bless us still, so that all the ends of the earth will fear him." – Psalm 67:6-7