African Fundraising Party
Have a party and raise some money. Why not? What else do we need? One of the Grace Klein Community kids decided to do just that – celebrate her birthday by giving it away. We promise we didn't make her give her chance for gifts away. She was delighted to share Africa with a few friends and thought it would be a fun experience for her friends who have never been to Africa.
Amelia Grace Waltman celebrated her eleventh birthday by having an African party. The attendees had to be willing to sleep outside, eat African food and play in the creek. They couldn't bring electronics and had to sign in at the port of entry. Uncle Cornie and Aunt Prima, just so happened to be in town, so they were the exceptional hosts.
The girls learned about African culture, from face paint (artist Aunt Prima), to African dress, to hand washing. Attendees ate with their hands as they tried nshima (made by Cornie over an open fire), cabbage, drumsticks and gravy. African songs were sung and an African story told by Aunt Prima in the tent before bed. They fell asleep to the "scary" sounds of bugs and barking dogs but they were imagining giraffes and elephants.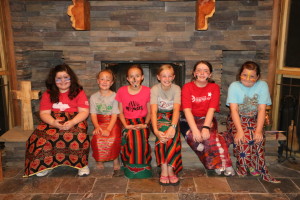 The girls raised $180 and even made a fun video to remind everyone to support Beats and Books with the funding of the Library Dreams Project.
What about your next party? Let us know if you would like to experience another culture while raising funds for one of our global ministries.
Book with our own Natalie Spronk, a South African and advocate for ministry partner Kwathu Children's Home! Email natalie@gracekleincommunity.com to confirm the date for your party and how many friends you plan to invite. We will help you with your food shopping list and ideas on what to ask your friends to bring. Plan a gathering where time doesn't matter. Remember, it will include "African time" as part of the experience. We will bring a 'mini store' where your friends can purchase gifts to support missions.
Looking forward to helping you celebrate your next birthday or whatever good excuse you come up with to throw a party.