Alabama Justice Ministry Network and Grace Klein Community Join Hands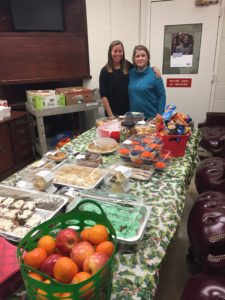 On Monday, December 11, 2017, Grace Klein Community had the wonderful opportunity to partner with Donna Singleton and the Alabama Justice Ministries Network (AJMN.) Donna is the director of the Jefferson County Jail Ministry (Birmingham and Bessemer,) and she also helps provide services to ex-offenders to gain and retain employment.
We encourage you to visit their website www.AJMN.org and read more about their various ministry efforts and the impact of God's love through our community. AJMN needs more volunteers to visit the jail and minister to the inmates and officers. Contact Donna to volunteer your time to share the love of Christ with the staff and those they oversee.
I (Rachael Cannon) had the incredible experience of going with Donna into the Jefferson County Jail downtown and setting up tables filled with delicious sweets and snacks, mostly donated by Grace Klein Community, for the officers and administrative staff. Since I had actually served time in the jail over 15 years ago, our visit was especially redemptive. We also had the opportunity of visiting the Jefferson County Jail in Bessemer and sharing food with the officers and staff there too! We had cakes, cupcakes, pies, cookies, chips, fruit and yep, even a few donuts. Corrections officers and employees of the jails got to "Taste and see that the Lord is good."
Thank you Donna, and Alabama Justice Ministries Network, for inviting Grace Klein Community to join hands with you.  Together, our partnership, allows us the honor of sharing the love of the Father in our community.