April Adoration
Community Encouragement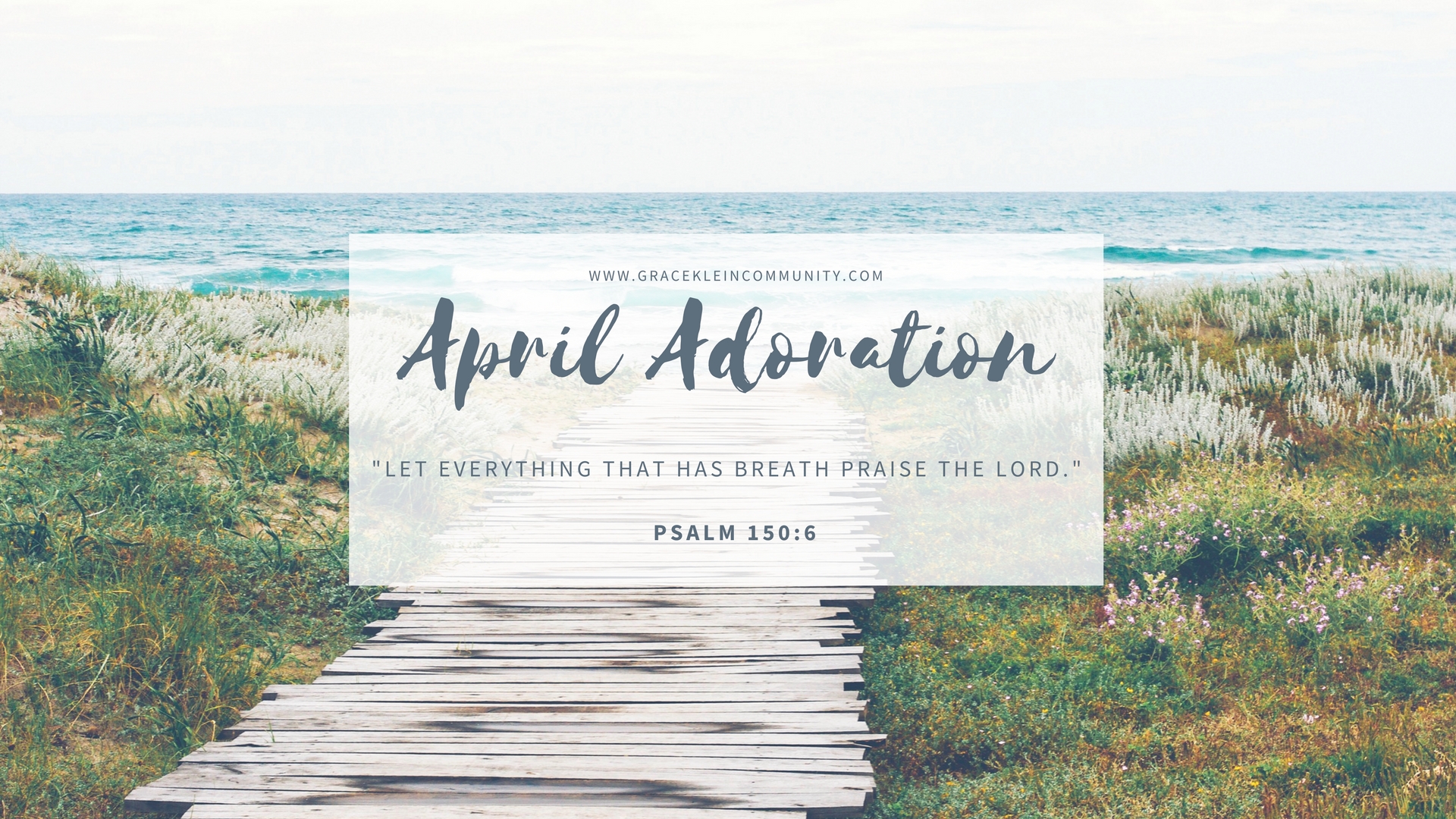 Let everything that has breath praise the Lord. – Psalm 150:6
April: fourth month of the year
Adoration: deep love and respect
For this fourth month of 2018, may we choose deep love and respect, adoration, for the One who has died for us. He came as a baby, survived boyhood and walked the earth as a man. He knew flesh. He knew the hardships, struggles and temptations of the world and He overcame it!
Then, in the greatest of gestures, He surrendered Himself to death. God had a master plan and His Son hung on that cross and died for the sins of the world, your sins and my sins. And then miraculously Jesus rose from the dead. Jesus conquered death; beat it! He demonstrated the power and majesty of the God who created us and He bridges the great crevice to give us access to God.
As we remember Jesus this month and continue the celebration of what His coming, His dying and His resurrection means for us, let us choose a month of April Adoration.
From the book "Prayer: It's Not About You" author Harriet E. Michael shares five valuable points on praise:
1. Praising God is a behavior we choose, no matter how we feel.
2. Praise is always appropriate, regardless of our circumstances.
3. Praise to God is not based on our circumstances.
4. Praise pleases God.
5. Praise is appropriate always and it is especially important when we are desperate for God to hear our prayers."
She also included these wonderful scriptures from Psalms:
Psalm 7:17 "I will give thanks to the Lord because of his righteousness; I will sing the praises of the name of the Lord Most High."
Psalm 9:1-2 "I will give thanks to you, Lord, with all my heart; I will tell of all your wonderful deeds… I will sing the praises of your name, O Most High."
Psalm 18:3 "I called to the Lord, who is worthy of praise."
Psalm 19:1 "The heavens declare the glory of God: the skies proclaim the work of his hands."
Psalm 47:6 "Sing praises to God, sing praises …."
Psalm 48:1 "Great is the Lord, and most worthy of praise."
Psalm 67:3 "Let the peoples praise you, God, may all the people praise you."
Psalm 113:3 "From the rising of the sun to the place where it sets, the name of the Lord is to be praised."
Share your deep love and respect for Jesus this month. Tell everyone. Sing in your car and in your kitchen. Praise the Lord when you wake up and when you go to bed. Praise Him as you enjoy nature, behind your work desks and in your hardest hours. Let everything that has breathe praise the Lord.
Can't help it, here is one more….
"Make a joyful noise unto the Lord, all ye lands. Serve the Lord with gladness: come before his presence with singing." – Psalm 100:1-2