Grace Got You!
"Having gifts that differ according to the grace given to us, let us use them." – Romans 12:6
Much like in any other community, every person plays a critical role in its successes: some of us are gifted with strength to move mountains or hold steadfast at the brink of temptation; some use their intelligence and heart to solve problems for the greater good or for the struggling individual; others are blessed with the gift of creation. In all cases, these skills can not only be used to benefit the community at large, but also to glorify God in their own rights.
Kim Parmley is a key example of someone utilizing every ounce of her spirit and talent to spread love and support among those who may need it the most. Her ambitions have always been that of selflessness. As an example, her former passion project, Butterfly 365, was designed to generate acts of kindness every day–how sweet is that! It was through this calling, she came to know Grace Klein Community.
After partnering with GKC to help individuals and families in-need, Kim says she fell in love with the strong sense of community that GKC facilities. And for the past few years, Kim has been an utterly invaluable resource and virtual honeypot of encouragement. Her bright, spunky personality shines through, not only in her vibrant smile and laughter, but in her endless generosity. Whenever GKC has spoken with Kim, she always seems to be putting the needs of others as her top priority.
Probably her most notable contribution to GKC is her regular donation of time and skill. As an artist, she channels the Grace of God via decorating all of the monthly food boxes–either single handedly, or with the help of her teenage daughters. Kim spends hours designing tangible love onto these boxes; sometimes they are images, and sometimes they are inspirational quotes–in any sense, they are always beautiful, heartfelt, and genuine.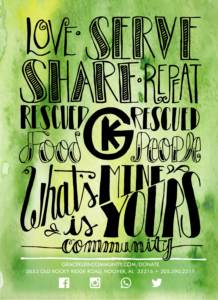 Many people may not know, Kim designed our mid-year mail out, and is currently working on T-Shirt designs for community.
Kim's efforts can serve as reminder of how precious we all are in serving with and for God. As mentioned, every single member of a community plays a vital role; not only should these strengths be amplified, but if our goal is to serve fully, then the strengths must be displayed fully. Whether we are an artist or an analyst, we all are called to serve–not just for Him, but for each other.
"But now, O LORD, you are our Father; we are the clay, and you are our potter; we are all the work of your hand." – Isaiah 64:8
– Cassidy Clevenger, Samford Social Work Intern