March "Madness"
"See, I am doing a new thing! Now it springs up; do you not perceive it? I am making a way in the wilderness and streams in the wasteland." – Isaiah 43:19
The Lord is indeed doing a new thing! We could not have anticipated the busy month ahead of us as March approached. In the crazy, we are hopeful. From meetings out of state, event planning and food drives, to volunteer coordination and the general day-to-day shenanigans that arise, the Lord never turns a blind eye to our need for helping hands. How can you not smile when receiving a call from a partner church, school or business offering to lend a hand?! How can you not get on your knees in awe of Father God's provision when, not one, BUT four partner ministries reach out to volunteer their time and energy, and give from their overflow?! That's Jesus y'all!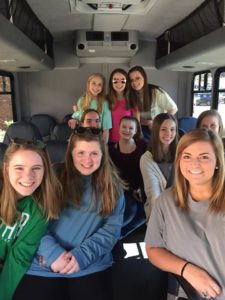 On March 3, 2018, students from Meadow Brook Baptist Church D-Now were such a huge help.
One group of students visited the homes of those within the Vestavia Hills neighborhood collecting non-perishable food items to benefit our monthly food delivery families; another crew served alongside our dear friend Mrs. Sheila Parks caring for the needs of ministry partner Metro CME Church in Ensley, while a third team served onsite with our partner Forward in Faith Ranch preparing a pasture for seeding, clearing trees AND securing the second rail of the arena. What a beautiful representation of the Body of Christ.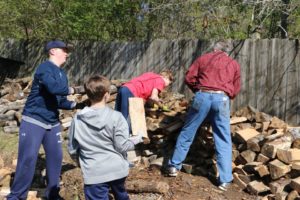 On Tuesday, March 13, Grace Klein Community had the honor of serving with students of Briarwood Christian School. Every year, they show up and show off for Jesus! Meal preparation, general office clean up, weeding, recycling, sorting donations, washing "big green"(our box truck)… what their team can accomplish in less than 6 hours is truly amazing.
Thank you to Liberty Church Birmingham for allowing us to use your kitchen to prepare ready-made meals for families in emergency situations, and for giving us a place to share a meal together while listening to a word of encouragement from Bo Savelle of partner business, Jimmy John's.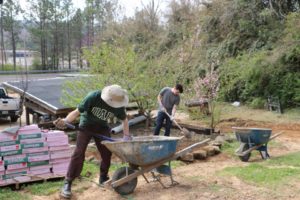 On March 16, 2018, the National Honor Society from Evangel Christian School blessed us with their presence at our office with hearts ready to serve. Their crew taped boxes in preparation for Food Delivery, wrote thank you notes to our donors, weeded the community garden, assisted with general office clean up, and shared words of encouragement on a number of boxes to encourage the hearts of our food delivery recipients.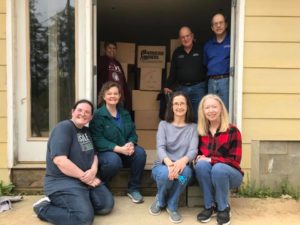 On March 23, 2018, our new friends at Lifeway Christian Stores, along with the sweet Early Seekers,  graciously gave of their time to help us distribute non-perishable food items into 245 food boxes in preparation for our monthly food delivery ministry the following day. Their team displayed such unity! In less than 2 hours, ALL 245 boxes were complete!
Wow God! Minimal, of the above, could be accomplished without the willingness, availability, and compassion of others who sacrificially share their energy, time, words and giftings to love and care for Birmingham, and many around the world.
Consider having your church, small group, sports club, or business contact Grace Klein Community to coordinate a serve day around your schedule. Whether you have 1 hour, or 6, you too can make a difference!