Overflowing Into Our Laps
Our expansion project has been a test of faith, courage, trust, obedience and stick-to-itiveness. From our 50k50days campaign to the journey of walking out the renovation as God sends the funds and the help, He has grown us. Oh y'all, He is continually growing us.
Generous donors gave which allowed us to purchase materials to build the extension, to wire it, to install electrical. Spec Building gave us the roofing materials at cost and new volunteers, a couple who recently moved to Birmingham, paid for those materials. Veteran's Roofing discounted their labor to install the roof.
Norfolk Southern Railroad donated railroad ties that allowed us to build a retaining wall, making space for a safe rear circular driveway. Vulcan Materials is donating aggregate for the driveway. We still need to make more pickup runs from Vulcan Materials when time allows for the runs. A skilled bobcat operator came and worked on the driveway with the donated gravel that we have received from Vulcan. We are having some drainage issues that is impacting the stability and compaction of the aggregate and we will need to add some gutters to help organize the runoff. The corrected berm in the right side alley is also helping with water diversion as we receive all the runoff from the property above us.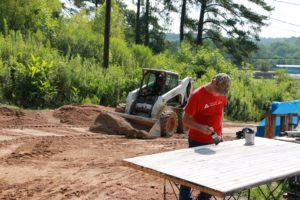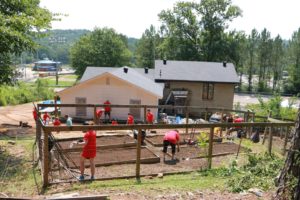 Church of the Highlands selected us as an anchor project for their July 2018 serve day. Over 100 people came to our office and did amazing work, inside and out. They surprised us with flooring for the extension that was installed during the serve. Another skilled carpenter built a beautiful barn door that is stained and installed between the main room and the Give and Take Room. Other volunteers did some painting touch up and by the end of the day our Give and Take Room shelves were relocated and set up in the new room.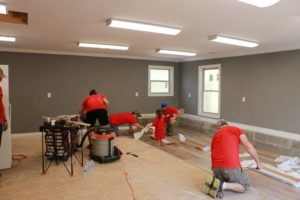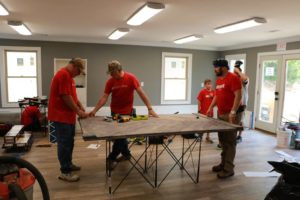 The new room has an amazing HVAC system to keep the new space cool and that system was generously donated by Robbins Complete Services. If you ever need HVAC work, whether a tune up or a new unit, please send business to them. Their phone number is ‭(205) 655-5030‬.
While the inside work was being done, the outside was beautifully transformed with weeding and mowing, donated mulch being spread in beds, additional retaining wall work done, bobcat work, the recycling bin organized, the compost organized and loaded into a farmer's truck, bins cleaned, and the box truck washed.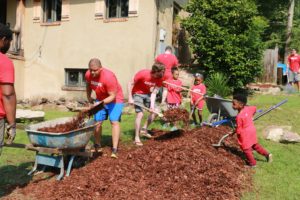 Other teams wrote thank you notes, emptied, cleaned and repacked kitchen shelves, organized the food shelves, decorated food boxes, sorted food, cleaned fridges and freezers, painted steps, scrubbed down shelves, swept and mopped floors and loaded two trucks with food to be taken to an offsite single mama serve day.
Praise the Lord for all He has done with the 30 Grace Klein Community serve days that have happened since January 2018. Praise God for the volunteers that pick up rescued food and serve at the office and around our city every day of the week. We are an army, the Lord's army, and we are spreading love and peace all over Birmingham. Together we are better!
What is left to do at our facility?
Prepping and pouring a slab
Building steps in several areas
Installing a roof system for the fridge/freezer unit
Installing our donated fridge/freezer unit
Adding special required wiring to run the unit
Finishing out some interior trim, drywall repairs and painting
Painting exterior of property
Adding gutters Installing new handrails to front steps
Repairing the leaning fence
Completing roof of the recycle bin
Implementing landscaping plan for property
Fresh coats of paint to interior ceiling, walls and trim
Painting of shelves all in one consistent color
Adding the exterior community areas
Adding ceiling fans in two rooms
Trusting God to finish all He has started. If you want to be involved, please email natalie@gracekleincommunity.com.
The Word is true, Grace Klein Community is experience Luke 6:38 every single day…
"Give, and it will be given to you. A good measure, pressed down, shaken together and running over, will be poured into your lap. For with the measure you use, it will be measured to you."