Tarrant Elementary School Field Day – May 19, 2017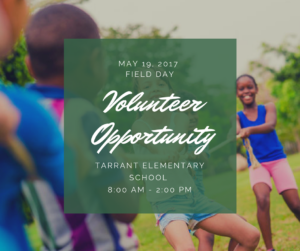 Grace Klein Community is calling out for all volunteers available to serve at the Tarrant Elementary School Field Day on May 19, 2017, alongside Coach Julie Levan.  Julie, a long time food delivery volunteer, started coordinating field day for Tarrant Elementary School in 2014, which was her first year as a PE teacher. Don't miss out on an opportunity to love through this fun filled day of games and creative exercise with children in kindergarten through second grade.
5 – 10 volunteers are needed for the event, and well-mannered homeschool children may also volunteer their time with their parents. The is a great opportunity for homeschool families to serve together.
Date: May 19, 2017
Time: 8:00 AM – 2:00 PM
All volunteers are required to be at the school by 7:45 AM.
Lunch will be provided.
Sign up to volunteer by emailing amaris@gracekleincommunity.com