Bambelela Drum Circle
Do you know the meaning of Bambelela?
Bambelela is a Zulu word, one of South Africa's native languages, meaning "Hold on." Though we named the event purposefully to encourage participants, perhaps God had other reasons.
What you might not know… two weeks prior to the Bambelela Drum Circle we were still begging God for the provision of drums, ultimately making the event possible. All those working behind the scenes were literally "holding on" to the edge of our seats in patience, trusting the Lord would provide in His perfect timing.
He is faithful.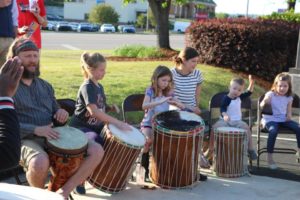 On April 17th, Chick-Fil-A Hoover Commons invited Grace Klein Community to host a mini drum circle at their location as a new and creative activity for their Family Fun Nights which are hosted weekly. We took the only 10 drums Grace Klein Community owns and had a great time with the families who came along to groove to the beats. We used the opportunity to invite the families to attend the Bambelela Drum Circle, two weeks later, in faith that we would have sufficient drums to host the event.
Teresa McKinnon, a member of Trinity United Methodist Church, visited Chick-Fil-A that night with her two grandchildren. Between you and me, I think Teresa had more fun than the kids! She was so determined to learn the 3 different rhythms Rainman taught the group. Seeing her smiling face, hearing her laugh, and watching her interact with her grandkids and the drums was a treat! Little did I know, God had an even bigger purpose for her being there. Before leaving, one of our volunteers introduced himself to Teresa, intrigued by her enjoyment on the instruments. Teresa shared her love for music and, she "just so happens" to be a retired music teacher! Long story short… because of Teresa, Trinity United Methodist Church provided 30 Tubano drums for the Bambelela Drum Circle! Wow God!
On April 22, Walker Wright, owner of Rejoicing Rhythms, contacted us offering to bring 14 drums to the drum circle (5 conga type drums, 4 fun bucket type drums and 5 middle eastern frame drums.) Say what?? Yes, please!!! Thank you Jesus!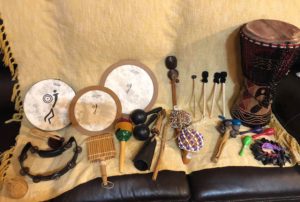 Another Grace Klein Community friend sent us a Facebook message on April 22nd with pictures of unpitched percussion instruments loaned to us, by her friend, for the event. 26 instruments to be exact!
On April 23, a dear friend and teacher from Rocky Ridge Elementary left a voice message asking us to collect the 9 drums they had to share for the event!
…And our tried and true friends from Greystone Elementary shared with us again too.
Did I mention Hoover High School offered to loan us drums as well?
Two weeks prior to the event, we were not sure how things were going to come together, BUT, because of community, we had over 70 drums and other unpitched percussion instruments at this years Bambelela Drum Circle. That's Jesus!
God used the unique gifts of friends from all over Birmingham to make this year's event possible:
Event Sponsors:
Succeed as U – Gold Sponsor
His Kids Academy – Bronze Sponsor
Drums Provided by:
Greystone Elementary School
Hoover High School
Rocky Ridge Elementary School
Trinity United Methodist Church
Rejoicing Rhythms
Use of Building:
The Church at Brook Hills
Performances:
His Kids Academy
Laura Pickens – Harp
Face Painting:
Drinks/Food:
Photography:
Hula-Hoopers:
Carron Bullard and friends with Carron Hoops A lot
Robbie Lewis and her crew with Hoops for Fitness
Registration Bags:
Shannan Trotter – State Farm
Grace Klein Construction, Inc.
Buds Best Cookies
Home Depot – Trussville
Taziki's
Digital Joy Studio's
Blue Cross Blue Shield
Print Smart
A Bunko group for packing the registration bags
A BIG thank you to all the amazing volunteers who help with pre-event planning, setup and take down. Our hearts were so encourage to see many join hands to make the year's event – the best one yet.
Thank you to our vendors who participated in the event:
Taylored Jewels and Embellishments – Regina Taylor
Jewelnique Accessories (Paparazzi) – LaTonya Hollins
Pampered Chef – Tina Klein
LulaRoe – Angie McGowan
Plunder Designs – Joy Andrews
Premier Designs – Melissa Green
Norwex – Kayla Ott
Noonday – Amanda Rodrigues
Swaziland Team Booth – Jennifer Vines
Scrundlewear Love Around the World
Thank you to Kim Parmley and Janie Williams for decorating boxes set aside for shoe collections for the Barthelemy family, currently in the adoption process. The boxes looked amazing, and the quotes written on the boxes were so encouraging. If you haven't given shoes yet, and would still like to do so, shoe donations can be dropped at the GKC office (2652 Old Rocky Ridge Road, Hoover, AL 35216.)
We give God all the glory for an amazing evening together of fun, music and adventure.  His provision may have felt last second to us, but He is always right on time.  Plus, through the contribution of community members and partners, the entire event did not use any community funds and we are able to give 100% of funds received to partner ministry, Kwathu Children's Home.  Another Praise Jesus multiplication of resources to care for His children in Zambia and His kiddos in Birmingham, AL.
Funds received will fund an entire month of school operations, including teacher wages, facility expenses, and two meals a day for 225 students.