Be a Part of the Puzzle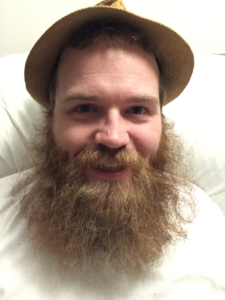 In May 2016, Evan Moon had emergency brain surgery and he continues to battle brain cancer with monthly chemo. Unable to substantially move his left side, Evan cannot work, run simple errands or prepare his own meals. Imagine!
Be a part of the puzzle for his surprise 33rd birthday. For every $33 you give, your name will be written on a puzzle piece that will be a birthday gift from all of us. Out of pocket expenses for seizure medication and January chemo totaled: $5,693.84 for Evan.
Help us find 500 people to celebrate his birthday so he can have a very challenging puzzle to put together. Puzzles are excellent therapy for Evan's brain!
Give via PayPal.com using the email donate@gracekleincommunity.com and select "friends and family" so no fees will be charged. 100% of giving will be used to pay Evan's medical bills, insurance, therapy, etc. AND all your giving is 100% tax-deductible as Grace Klein Community is a 501(c)3 non-profit.
Send Moonbeams – encouraging poems, stories, memories, songs, videos etc to natalie@gracekleincommunity.com and it will all be published together in a blogpost on his 33rd birthday!!
Share this post to help us find all of Evan's friends. For real – we need YOU!!!
Evan's birthday is February 21st so the deadline for involvement in his bday puzzle is February 19th. GO!!
PS. Evan does not use Facebook so he won't see any of your posts on Facebook. Go crazy sharing as it will be an amazing surprise for him!!!