Beauty from Ashes
December 23rd, 2014, God blessed Grace Klein Community with a home that was no longer needed by a customer of Grace Klein Construction. February 27th, 2015, 66 days later, God provided much of the homes interior including bath tubs, toilets, a water heater, doors, light fixtures and more! How???
Tricia Day's home is one of 5 homes in the Saddle Run Neighborhood targeted for demolition under a federal flood-mitigation grant obtained by the city of Pelham. Since 1991, 10 floods have hit her home causing major damage to Tricia's home. The city plans on demolishing the homes to create retention ponds and channels for managing the flow of storm water to prevent flooding.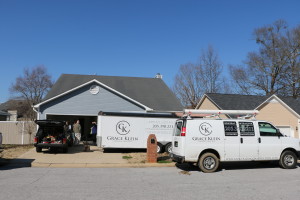 When Tricia heard that the flood-mitigation grant was approved for her home, she sent a letter to the Greater Birmingham Association of Home Builders to come "strip her home" so that the interior materials wouldn't go to waste. When Grace Klein Construction received the call to remove the interior materials from the home they knew it was a God send for the Grace Klein Community Home.
After 2 months of praying for provision for the Grace Klein Community house, which is in need of a lot of work to have the house restored into a home, God remains faithful and provided in a way we least expected.
February 27th, 2015, Martin Reed, a reporter from the Alabama Media Group – Shelby County interviewed Miss Day and Grace Klein Community Staff and an article was recently published on AL.com. CLICK HERE for the full story.