Bethany Gamble – Office Manager
Grace.
We all have a story, every triumph and tragedy precious to
God.
Mine can be summed up very simply in that all too familiar
bible verse:
"My Grace is sufficient for you…" – 2 Cor 12:9
We take these ancient words for granted, until we are faced
with tragedy, desperation, or loss. There is no great story that doesn't
include these elements. There is no great story that teaches us the easy way
out. In between the catastrophe and the climax, there is only grace to see us
through.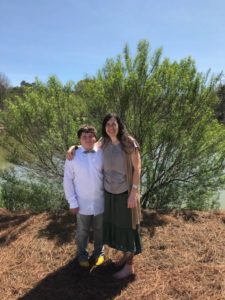 I have been the recipient of much undeserved grace. My eight
year relationship with Grace Klein Community was, unknowingly, a moment of
pre-emptive grace that began very simply with an offer to help out my home
church as they hosted one of GKC's first "Community Nights." I was sold on the
vision instantly. I had no idea that it
would be a romance that saw me through so many bright, beautiful moments of
worship and so many dark halls of heartache. I built food boxes, I delivered
food boxes… then one day I was the person financially, relationally, and
spiritually devastated… who received a
food box that someone else built and someone else delivered.
In these last 8 years I have been married and divorced. Had
a pregnancy that turned into grief. Sick and then healed. Dead and then alive.
Grace.
Grace… that in the midst of it all I've been invited to
dozens of food deliveries. Counted thousands of loaves of bread. Rescued
thousands of pounds of produce.
My heart and my passion are very simple: take the grace I
have received from this and other faith communities and push it back out into
the world.
"Proclaim this message: 'The kingdom of heaven has come near.' 8Heal the sick, raise the dead, cleanse those who have leprosy, drive out demons. Freely you have received; freely give." Matt 10: 7-8
When there was but little, God multiplied it. What little I
have to give I am confident God will multiply through my work with Grace Klein
Community.