Boldly Meek
She comes running to help with that gorgeous hair of hers flying through the wind. No work too grimy or messy for her. She jumps right in, sorting the donated produce and hauling the heavy compost. All joy as her quiet self scurries around almost looking for the tasks no one else wants to do. A servant leader, strong in her fragile, bold in her meek, generous in secret. Have you met our dear Brynna Schiller?
We cannot really remember when Brynna came into our community. Maybe at our first No More Safety Pins event?! She signed up to volunteer and volunteer she did. Sometimes with kids and sometimes without, she was constantly hanging clothing all day long. She smiled, she listened to music, she implemented systems for our efficiency, she brought all her collective experience and did not hoard her gifts. She gave freely. She walked up into our lives and we never want her to leave.
At the daily trade market, Brynna is a natural leader, full of creative ideas to help the donations flow in and out smoothly. Working with cases of apples, tomatoes, carrots, milk, etc. can overwhelm some people so we need friends like Brynna that lead us quickly and engage everyone. She can see how getting the crates stacked outside as quickly as possible gives more space or how this person can work on one task while another handles this task. Working together is crucial to keep everything clean and orderly and Brynna is a kind initiator.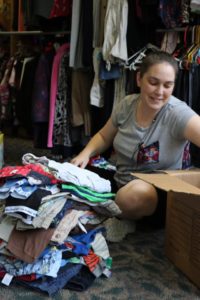 A little side note: When we had chickens, her daughter Liz was our official rooster whisper. The rooster was mean to pretty much everyone else in the community except Liz. Liz has this ability to connect to animals in a way that calms them. She made the rooster feel safe and he would not act rowdy when Liz was around. We were so thankful for Liz as she kept little kids from being afraid or getting pecked by the old grouch. He was not a grouch when she was around. Isn't that such a great lesson on labeling – everyone/everything has good in it, even if we cannot see it, because God created it! Even our feisty rooster.
As life happens, so does many various events around our city. Events to educate, inspire and delight. Brynna is excellent at sharing these community events so that others know of opportunities to learn and grow. When people live on tight budgets it can be easy to get an "oh pitiful me" attitude and someone noticing a lecture at the library, a free festival or a canning class empowers friends to have places to explore and participate. Everything does not cost money in our amazing city and Brynna helps share ideas that encourage families to get outside their homes and try something new.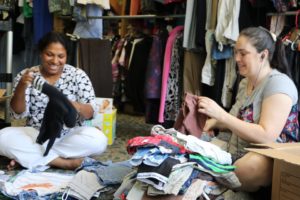 None of us have it all together. We all have daily struggles, obstacles and problems to solve. Some of our battles we fight in ways that many do not see. Other situations end up exposing our vulnerability and growing our courage. Brynna is comfortable in her own skin, willing to share hurts and victories, and one-on-one shares with transparency and openness. She listens so deeply that you know your thoughts are heard and she is authentic so she does not intimidate. She wraps that real around community friends with love and understanding. Brynna inspires others to be flawed, a beautiful work in progress, and live in the forgiveness of Jesus. She has that enduring hope and faith in a Shepherd that deeply cares for all us wandering sheep.
As you wander around the office making a donut tray, shopping at No More Safety Pins, attending a ladies gathering or hiking at camping week, maybe you will have the privilege to meet Brynna. Watch for that flowing hair and contagious smile. Be blessed as you learn from another amazing lady who makes us all better.
Jesus tells us: "I am the good shepherd. The good shepherd lays down his life for the sheep. I am the good shepherd; I know my sheep and my sheep know me— just as the Father knows me and I know the Father—and I lay down my life for the sheep." – John 10:11, 14-15