Camping Week 2017 Reflections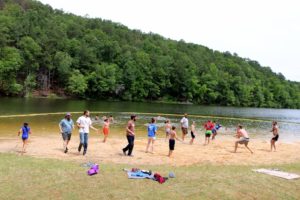 On May 26th – June 4, 2017, Grace Klein Community held our annual camping week at Oak Mountain State Park. Excitement starts to rise weeks before camp begins! Finding the sunscreen suddenly becomes of utmost importance for the kids… only to ensure they can embrace every day in the sun to the fullest… there is no time for sunburn, there's just too much fun to be had!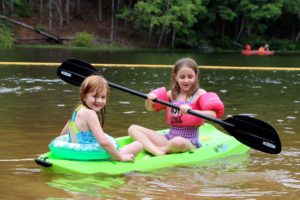 Two birthday celebrations, spank tunnel traditions, Mrs. Birdies famous strawberry and chocolate cakes, the never enough of Mrs. Gayle's broccoli salad, ultimate frisbee, swimming, jumping off the pier, kayaking, pillow making, hiking, crazy jenga, djembe drums, guitars, ukuleles, worship, camp fires, s'mores, early morning coffee, late night chats, tents, hammocks, a lot of rain, yet some good sunshine, fire ants, back seat sleepers, adults, kids, babies, dogs, potatoes for days, fried chicken, salads, eggs, sausage, sandwiches, chips, drinks, snacks, friends, new friends, no one's a stranger, what's mine is yours… pretty much sums up an amazing week with incredible people.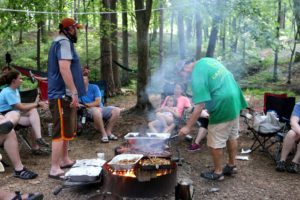 Life is beautiful when you recognize the Creator in all things! Strangers connect through Jesus, stories shared as if we've known each other for years, singing together isn't awkward…oh the joy in worshiping as fellow believers!
Hear camping week reflections from the heart of the kids:
" For me, camping week is an annual family fest at the beach and at the campfire. I love how friends come together to play. Camping week is what I look forward to every year because of the freedom I have between swimming, riding bikes, goofing off, whatever. I love how I can disappear if I need to, because I am an introvert. I also love not having the responsibility of wearing shoes. For 3 days I lost my shoes, and I just went with it. I went hiking without shoes. I went biking without shoes. I went everywhere without shoes. It was awesome. Why do I love camping week? I love the freedom." – Denver Waltman, age 11
"I like seeing all of my friends at camping week and I look forward to it almost all year. I like the BMX track at Oak Mountain too!" – Niko Varvoutis, age 10
"The funnest part was playing with my friends and spending time with them and the ones I love. God taught me how to be loyal to my friends." – Nesia Hulsey, age 5 and a half
"I like playing at the lake with my friends." – Micah Elliott, age 9