Clays for Community 2017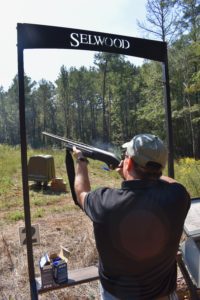 On September 28th, Grace Klein Community held its second sporting clays fundraiser, Clays for Community, to help raise funds to supply food, clothing, and household items to local families. We spent the day at the beautiful Selwood Farm where 11 corporate teams competed in a 100 target sporting clays shoot. The teams traveled by golf cart through the fields and the woods and visited a total of 18 shooting stations. As they stopped at the stations, they were greeted by a friendly volunteer and a quick fact about Grace Klein Community.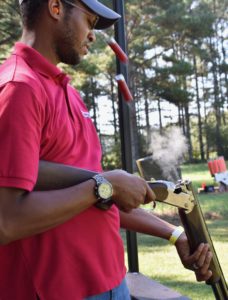 We had a wonderful breakfast provided by Vecchia Pizzeria and Mercato, sent the teams out on the course to compete, and finished the day with a BBQ lunch provided by Whiskers. The teams had a great time and the top 2 were awarded with prizes. Shooters in 1st place each received a Hoover Tactical Firearms indoor range membership. Shooters in 2nd place each received a $25 Gift Card to a local restaurant. Clays for Community raised over $5,000 to help us provide for families in need. We are thankful for almost 24 volunteers and multiple sponsors who made this event possible. The money raised covers, just short of, one month of our food delivery outreach expenses which provides a box of food for a family of four, containing one week's supply of groceries, and distributed to approximately 230 families that we assist one Saturday per month. We want to extend a special thank you to our corporate teams and sponsors (America's First Federal Credit Union, Amwaste, AVX, CIS Home Loans, Crutchfield and Graves Insurance, Kendall Electric, Landmark Landscape Group, Supreme Lending, Teklinks, and Vecchia) who partnered with us to make the event a success.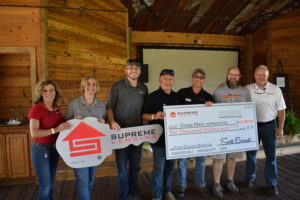 The grand finale of our event included a presentation from Barry Logan and Trey Horton gifting $10,000.00 from Supreme Lending to Grace Klein Community.  This contribution solidified their commitment as a sponsor for not only today's event, but several future events along with "soon to be" signage on the Grace Klein Community box truck.  We are excited to announce Supreme Lending as one of our newest business partners. Supreme Lending, headquartered in Dallas, TX, is recognized as one of the top 100 mortgage companies in America.  Employees from the Birmingham office currently serve through our monthly food delivery ministry.  Supreme Lending's contribution will help Grace Klein Community care for local families in need.
Save the date to join us on September 20th, 2018, for our third annual Clays for Community at Selwood Farm.