Community Garden
A community garden is intentional, hard work, inspiring, unifying, hope, evidence of miracles, provision, and grace. A community garden can also be frustrating, disappointing, full of weeds, work, hot, death and dirty. A community garden is a visual story of life in sin, battle, freedom, waiting, trust and Jesus.
In 2011, some friends were inspired to build a garden, a community garden. We were hoping to find a good spot in the backyard of GKC where food could be grown that we could all give away.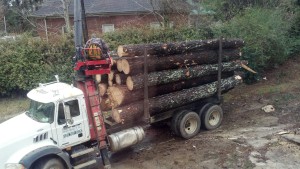 The yard was full of six huge pine trees that seemed to squash the whole idea. One day we were talking to Rex at R&M Tree Service and asking how much he would charge to take down the trees. He asked us why we were taking down the trees and we explained we had a vision to grow food. He said, "if I'm understanding you right, you plan to grow food to give it away, so how can I charge you? If you are giving, I've got to give too." Rex thought about how he could pay his crew and asked if we were ok if they sold the logs to pay the staff. Of course, we were more than thankful. God was clearing the way for a garden.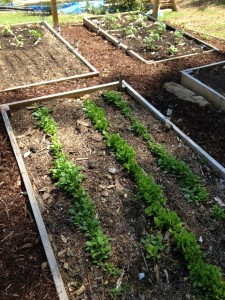 Another Grace Klein Community friend, Margaret Stewart, loved the idea and had other suggestions that would prove to be a huge impact. She works with students individually on reaching their potential in math and is extremely gifted at using a kid's interests and passions to drive their learning. She saw the garden as a chance for her students to use geometry concepts to design the beds and install sprinklers. One day the tree crew rescued baby squirrels from a felled tree and showed the student who was there working with Margaret. Throughout the week, one of the GKC crew that seemed so tough on the outside, showed his gentle heart as he worked with the students to lay out the beds. The tree crew, Mrs. Margaret, construction staff and students all worked together on something that would be beautiful.
The City of Mountain Brook has this rich recycled dirt called 'black gold' that helped motivate the hard ground to become fertile. Oliver, a recent retiree, built our compost bin. We knew we would need to start engaging the worms to help us have more awesome dirt the coming years, and the year after that. We started learning about what can and can't go in a compost bin and encouraged people to contribute their apple cores, coffee grounds, carrot peels, watermelon rinds, etc. God can even use the excess we throw away to make rich soil.
The Brown brothers (related not by blood, but through GKC) found all the little limbs from debris clean-up projects and used the commercial chipper-shredder to make mulch. Keith and Darrick hauled that mulch in wheelbarrows and spread it all through the paths around the raised beds. Melissa studied the way to plant, the time, the spacing. She brought in her mom Janice, who helped her draw up plans on what to do and when.
God used an army to birth the dream and keep it going. So many kids and adults weeded. Eddie and Paul gave advice. Rachel Linderman collected plastic produce containers that we could use to harvest and give out the fruits and veggies. Tim kept the sprinkler running on the really hot days.
For several years, Briarwood Christian School has sent their 8th graders to weed, restock the mulch, turn the compost and plant for the next season. Margaret has been back to help lead the students… her heart is drawn to teaching students life skills. Our bankers stopped by one day and we had them gathering fresh lettuce and rosemary for their dinner. Melissa, Jason, Cody, the kids, whoever is willing, harvests the bounty for food boxes. We still use the little plastic produce containers and we still need people to donate them.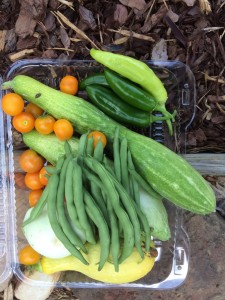 A community garden is for the community. Anyone can go grab a squash for dinner or some jalapeño peppers. Community shares and the more okra we pick, the more it grows. We preserve the tomatoes for the spaghetti sauce at prayer night or bring banana peppers for the salad at a ladies night out. We share the food with the volunteer that stops by, short on groceries this month. We add a random assortment of produce to the thirty food boxes that were delivered from the office last week. Whoever needs it, it's yours.
The garden expanded this year. Two more sections were added, as well as a chicken coop. Maybe in a few months, we can bless friends with a carton of eggs. Ali's parents already donated over 200 egg cartons, so we are expectant. Guys like Vincent, Cody, Paul, Trev, Jason and Cameron worked long hours building fence out of scrap and creating the coop from cedar that Andrew Cole-Tyson gave a year or so back. We hope to give Andrew the first carton of eggs! Scott and his kids helped take care of the baby chicks and he keeps the chickens fed and watered.
Last week a teenage boy helped weed the squash and okra bed. We hope he comes back. We weed when we can, but we need more help. The weeds are vicious this year. A reminder of how the weeds can overtake and kill what's good. A reminder to keep our lives free of the weeds of sin that so easily entangle us and choke us out. Could you help for an hour? Maybe you want to come weed and spend some quiet with Jesus to sort out your own junk. Every weed we pull is a reminder of how Jesus works in us to clean us up and keep us living free so we can produce fruit for His Kingdom.
This week, three of our chickens died. We aren't sure why. We are praying for the safety of the chickens. Pray with us. Pray for the many families who eat from this garden. Pray that the garden serves to teach people more about God and who He is and to see the earth the way He intended it.
A few immediate garden needs:
weed the garden
donate plastic produce containers (strawberry, blueberry etc.) Please remember to wash them.
add your excess to the compost bin that is located at the top right of the GKC property in a small caged area

Fruit and veggie scraps, coffee grounds, newspapers, egg shells, ash from fireplaces, dried leaves are all good compost material. If you bring leaves, please leave bags of leaves by the bin. We add those gradually.
No fat, meat or bread in compost

feed and water the chickens (check schedule with Scott and must be reliable)
harvest the produce that's ready to give
financial donations to feed chickens
grass cut around the garden
rocks moved from pile on the right front of office to the back to line the driveway area in rear of building