Community House Update – December 2015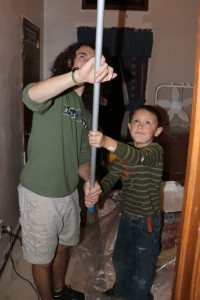 Just a sneak preview of some of the progress that has taken place during the course of this year. We plan to have an open house soon, and don't want to reveal too much before the big day! But, if you're curious, come for a sneak peek on December 31, 2015 from 6:30pm.
We'll be hopping and bopping on the fresh floors of our community house. As such, leave your shoes at the door and adorn your favorite socks. Bring an appetizer or dessert to share!
The Grace Klein Community house remodel is going well. On December 7, 2015, many Grace Klein Community members, as well as our friends from The Common Thread Community, helped break apart pallets and paint the interior of the community house.
We all divided into rooms and shared stories and laughs while working together to get the job done. Someone played worship music on the piano while others cleaned up the leftovers from the food we all shared for dinner.
Since the paint party, pallet paneling has been installed in the main living area and the hardwood flooring has been installed and finished. The rain has created a delay, but the back deck should be finished by the time you find yourself reading this update.
The master bath has been tiled and once the walls are painted the toilet can be set and another room will be complete.
We look forward to inviting everyone over for a house warming party in the new year.