Creative Genius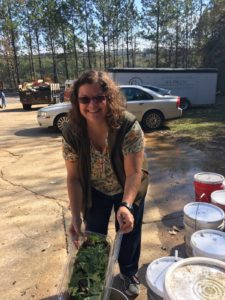 Grace Klein Community is busting at the seams! We are outgrowing our space and it is awesome. God continues to do more and more! We are so thankful to see how the Lord continues to use Grace Klein Community to impact Birmingham families and many around the world, but we can't hide that this awesomeness also comes with challenges.
Upstairs can look like a maze leading up to our monthly food delivery ministry. Sometimes we can hear each other, but can't see one another over the fort of boxes. Volunteers are always up to the challenge of helping sort and organize the donated food items to create more space to operate… Karen Eileen standing out in particular this month.
Karen Eileen showed up one day for a meeting with Scott; she wanted to know more about Grace Klein Community. Karen was nicely dressed in her professional clothes. She showed up the next day in work clothes and went to town. Karen recently moved here from Virginia and did not waste any time seeking a place to share her God-given gifts. One of those gifts is organization and creating space. We picture her standing in the middle of the room, one hand on her hip and the other holding her magic space creating wand. She studies the space around her for a minute and then with a flick of her wrist, her wand dances and suddenly items are put away and there somehow seems to be more space then when she started!
The day before Snowaggedon was quite frigid. Karen was at the Grace Klein Community office ALL DAY. She had a cough and wasn't feeling her best, but she knew we needed help and she sacrificed her time and feelings to lend a hand. She was originally there to run the office during our staff meeting, but instead of just sitting around, she helped organize and put away a rather large food bank pickup, unload the truck, sort food and haul off the bad food you don't want to see or smell when you visit Grace Klein Community, all while orchestrating market! She has also helped wrap Christmas boxes for our drop off locations this Christmas season.
Some people were convinced it wasn't going to snow and all the talk was a bunch of media hype. Karen smiled and said, "it's going to snow. You can smell it." Add smelling future snowfall to Karen's list of magical gifts! She also has a vast knowledge of natural remedies and toxic-free living!
Karen has quickly become a Grace Klein Community superstar with her infectious smile and a natural way of driving you to jump in and help with whatever task is needing attention. Karen, thank you for seeking us out and cheerfully walking in obedience to the voice of the Father in your every action.
"God is not unjust; he will not forget your work and the love you have shown him as you have helped his people and continue to help them." – Hebrews 6:10