Dawson Family of Faith Serve Day
We were blessed to have over 100 students from Dawson Family of Faith serve at various Grace Klein Community assigned sites on January 13, 2018. The students were divided into groups that served at the Grace Klein Community house and the Grace Klein Community office, as well as with ministry partners, Metro CME, Forward in Faith Ranch and Liberty Church Birmingham.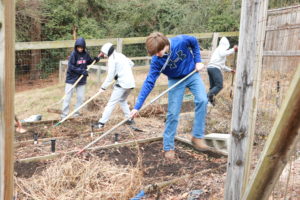 Students and adult volunteer leaders braved the freezing weather and gave their all! At the Grace Klein Community office, a group of young men loaded a trailer filled to the max with cardboard for recycling, and swept the recycling area at the office as well as the driveway. Only boys know how to make a game from loading cardboard! Our hearts were encouraged to see how much they enjoyed serving together no matter the task. Others got their hands dirty in the community garden, cleaning the beds to prepare for spring, while another crew raked leaves and cleaned the chicken coop, ready for our new babies in the warmer months, Lord willing. Others walked the perimeter of the property, taking care of all trash, building material remnants and general clean up.
While the men served outside, a group of ladies served inside the building in various capacities. Students helped in the Give and Take Room by sorting donated clothing and other items while placing them in the correct bins for families and individuals to easily find their specific size. Others helped downstairs in the basement. The basement team preserved bananas ready for making banana bread, cleaned refrigerators, sorted and organized bread and cookies, washed out bins for donation pickups, moved donated items to different freezers, washed windows, cleaned counters and swept the floors.
Another team sorted and organized non-perishable food items received from various donors in preparation for our monthly Food Delivery Ministry that took place on January 20th. The ladies very quickly brought order to the main room, bringing a sense of peace for our crazy month ahead.
While a team of young men took care of general yard clean up at the Grace Klein Community house, another crew organized and cleaned the garage, the basement living area and the main floor upstairs, ready for community events.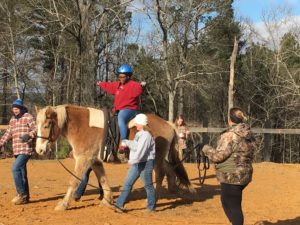 Others had the opportunity of grooming horses and taking part in a rock challenge at Forward in Faith Ranch, while another team served alongside Mrs. Sheila Parks at Metro CME helping prepare for an upcoming event, sort donations in their clothing closet, as well as assist with general clean up around the church.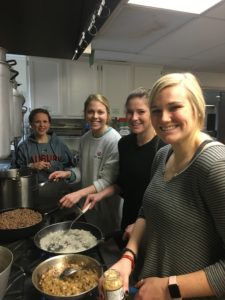 If you have heard of our friend Dana Owens, you know she's an AMAZING cook. Together with the help of dear friends, Shannon Haskins and Helen Brock, Dana and her team of girls made 8 family size servings of healthy vegetable soup as well as 10 family size servings of delicious chicken burritos to care for families in emergency situations. A big thank you to Liberty Church for graciously allowing us to make use of your kitchen during serve days.
Looking back on the Lords provision of helping hands this month, we are reminded of the many times the Lord has proven Himself faithful. Often we may expect His faithfulness to look one way, but God knows what is best, not only for you or me, but what's best in light of eternity.
If your church, school, or business is interested in serving with Grace Klein Community, email serve@gracekleincommunity.com for details. Serve days are a great way of getting involved in the community of Birmingham.