Fill the Shelves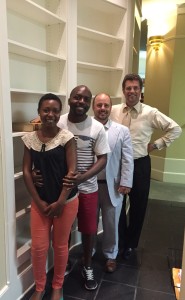 Stevenson Klotz Law of Pensacola, FL, has partnered with Grace Klein Community to support our global partner the Leadership Experience through the Beats and Books program in Jeffrey's Bay, South Africa.
Partners, Eric Stevenson and Chris Klotz, who specialize in personal injury law, are both musicians of the Pensacola band Local Mullet. As a firm, they are passionate about community involvement, having recently hosted Gallery Nights, that feature musicians and bands from the Youth Music Project, in front of their law office and a conference at the Palafox House in Pensacola, FL, with author Ian Cron on the topic: The Enneagram, Or Why We Are the Way We Are.
Beats and Books is a ministry program lead by Zambian missionary couple Cornelius and Prima Ngosa. Cornelius and Prima are both staff members of the Leadership Experience and one or both of them have traveled to the United States for three consecutive years raising awareness and fundraising for a library and music academy for township children in Jeffrey's Bay, South Africa.
Stevenson, of Christ Church, and his family, have hosted the Ngosa's for the past two years in their personal home in Pensacola, FL. The Stevensons have been instrumental in coordinating speaking engagements for these missionaries at such places as the Christ Church Episcopal Day School, a Wine and Cheese Social hosted by the Christ Church ECW and the Brotherhood of St. Andrew, a leadership conference with Chain Reaction a Teen Leadership Institute, Cordova Park Elementary, and a Girl Scout cultural festival.
During the Ngosa's visit this year, Stevenson and Klotz shared sushi with the Ngosa's and dreamed about how they could invest in the Beats and Books library and music academy. They took the Ngosa's to visit their office and showed them empty bookcases and committed to engage the Pensacola community and their clients in filling the bookcases with books for the library in Jeffrey's Bay, South Africa.
As musicians and avid readers, these partners have chosen to invest globally in township kids in South Africa through the non-profit Grace Klein Community, based in Birmingham, AL. Through the Beats and Books program, music and literacy partner together to empower and inspire the future of children.
Currently, the Beats and Books program offers school tutoring and teaches music, vocally and instrumentally, to children three to four days a week. The long term vision of Beats and Books is to have a building that houses a fully furnished library, with a computer lab and e-reader technology on one floor and a music academy on the second floor. A building is available for purchase at $130,000 that is within walking distance of the children. Fundraising has been gradual and they continue to trust for the funding to carry the vision forward.
For those who live in the Pensacola, FL, area, gently used and new books can be added to the shelf at Stevenson Klotz Law located at 127 Palafox Place, #100, Pensacola, FL 32502. Help fund the library and music academy by writing a check to Grace Klein Community, a 501c3 non-profit organization. Checks made payable to Grace Klein Community can be taken to the Stevenson Klotz Law office or mailed directly to 1678 Montgomery Hwy #104, Birmingham, AL 35216.
Grace Klein Community and our partner, The Leadership Experience, are delighted to have the support of Stevenson Klotz Law for the Beats and Books program in Jeffrey's Bay, South Africa.