Fill the Truck
SkyZone is more than jumping. They not only donated door prizes for our Drum Circle and No More Safety Pins events, but they have also partnered with us for our Gifts for the Forgotten focus in Birmingham for the Christmas season.
A few years ago, as we prayed about how we could do Christmas differently, God reminded us of the people who are forgotten at the holidays. Love on them! We thought of our garbage workers who serve everyone on their routes, no matter how hot, cold or if it's raining outside. Why not thank them for moving our trash and serving our city in a vital way. We considered HIV/AIDS patients who often sell everything they have to afford the medication they desperately need. Simple toiletry items, cleaning supplies and warm socks meet basic needs. And innocent children who are born into situations that are out of their control. Maybe they need winter clothing, shoes or new underwear and their parents must choose between those items and keeping the heat on or food on the table. We can remember these precious people and they will no longer be forgotten.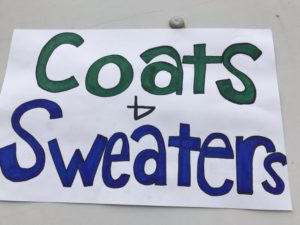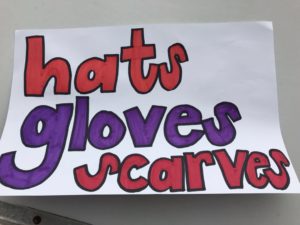 As we began to spread the word about "Gifts for the Forgotten" for Christmas 2017, SkyZone was a local business that jumped in! On November 18, 2017, SkyZone hosted their first Fill the Truck with ministry partner, WayFM Birmingham.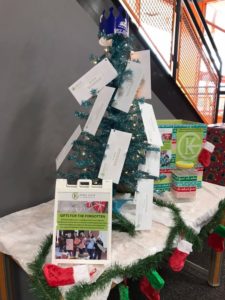 SkyZone also set up a Christmas tree where families coming in to jump and play could take one of our referred children to sponsor for Christmas.
The next Fill the Truck is scheduled at SkyZone on December 9, 2017. If you are around, drop by with non-perishable food items that would stop one person from being forgotten this Christmas.
God did not forget us. He sent a gift named Jesus for all of us to no longer be forgotten, but remembered. He gave us a baby who would grow into a man and die on the cross for our sins. God did not abandon us. He came for us.
Each Christmas, every "Gift for the Forgotten" is a symbol of Jesus coming. A reminder to each of these "forgotten" people that they are not forgotten. They are remembered. We remember them because Jesus does.
Jump in at the opportunity to sponsor a child at SkyZone Hoover. And if you have the resources for a Christmas outing for your family, please remember SkyZone Hoover as a thank you to them for remembering the "forgotten" of Birmingham.