Food Drive Jam – 2018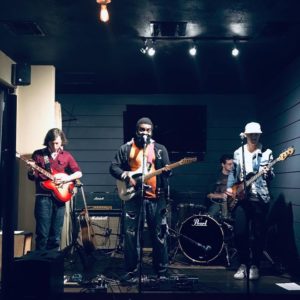 Since becoming an adult, I've been on a constant search for what I was made to do in the world. There have been many victories and defeats over the years, but recently I've been introduced to and entrusted with incredible opportunities that seem to suit me perfectly. The 2018 Food Drive Jam is a perfect example of that. When God gave me the idea it was as clear as a cloudless sky that it was something I'd been getting prepared to do for years. As my passions for food rescue and music have both been fanning into bright hot flames, particularly over the last 3 years, hosting a food drive concert is a perfect storm of two of my favorite things to do.
When I was introduced to the food ministry of Grace Klein Community back in January 2016, I immediately fell in love. I started out serving at the monthly food deliveries and covering some families who didn't have permanent delivery volunteers. That quickly evolved into helping prepare the boxes for delivery and soon after that, GKC was able to buy a box truck and began picking up large loads of produce from a local distributor that was tired of throwing away good food. Before I knew it, I was setting my work availability so that I'd be able to volunteer as the box truck driver at least a few times a week. I was hooked and loving it. In January of 2017, I officially joined the Grace Klein Community staff.
During my first year on staff, it started to become painfully clear that food rescue wasn't my only passion. Another thing that happened during the fall of 2016 is that I joined the worship team at Fullness Christian Fellowship as a drummer. This stoked the flame of my musical passion to the point where I spent most of 2017 squeezing in studio time wherever I could in order to record and mix my first full length album, The Silent Siren (Knocking and Running Away). When that finished, I joined Redstone Church's worship team as a singer and acoustic guitarist and since then, I've spent just about every Sunday leading worship at one church or the other. It has been a season of jumping head first into my greatest passions and I've loved being able to join these amazing communities and share my gifts with them.
Sometime this summer, after returning home from my first mission trip to Kwathu Children's Home in Zambia, God hit me with a great question. "You love food rescue and you love music. Why not combine these passions and rescue food while sharing music at the same time?" From this simple question, the idea for the Food Drive Jam was born. It felt obvious and any of my friends could attest to how excited I was about the idea. I couldn't stop talking about it. I had no idea how I would make it happen but I knew that with the help of my communities, I could certainly do it. God had been routinely pushing me out of my comfort zone and proving that by trusting in the Spirit and allowing my family in Christ to step in and bring their gifts, encouragements, and prayers into the mix, we can make seemingly impossible things happen. Every doubt along the way was met with an answer from God.
The dream grew as time went on and by simply saying yes to whatever God would urge me to do and being honest when I needed help from the amazing communities surrounding me, we were able to pull off a really fun night of music and food rescue. It was truly a communal effort in every way. I had friends who joined me on stage to play music and sing, collected the money from cover charges and food orders, prepared burgers and hot dogs to feed guests, helped me stay organized, made sure I had every little detail taken care of ahead of time, prayed for the event, sponsored the event, came to enjoy the night, helped set up and break down the event, etc. Literally every part of the night was made possible by teamwork in community.
Together, we were able to raise over $400 and collect more than 150 non perishable food items in one night during our first attempt at a Food Drive Jam! It was a night to remember for everyone who was able to come and God willing, it was the first of many Food Drive Jams. To everyone who helped in any capacity, I'm sincerely thankful for any and everything you did to help bring this idea to life. A true community event, God was celebrating with us through it all. I look forward to putting together many more events just like it in the future and I hope you'll join in to make ministry opportunities more fun and accessible to all people!
– Giorgio Fareira