From Hinduism to Christianity
Every Monday we gather. The "we" varies every Monday night, but the time or place to gather does not change. Sometimes we read scripture and pray for hours. Sometimes we worship and study Elijah, Moses, Esther, Peter or Ruth. Or we study books of the Bible or share what God has been teaching us. We always feast together. We always reflect on Jesus. We remember Him and we trust Him for tomorrow. Many times, friends share their stories, how Jesus did this or that in their hearts and wooed them to Himself. Or missionaries come and they share how He provided at the last second, the granny who met Jesus or the disrespectful child whose heart He changed.
Every Monday is a secret treasure, waiting to be unwrapped of how God will surprise us this week. Maybe some homemade jam, a restored friendship, a child quoting scripture. You never know!
The other Monday our surprise was India. Steven* from Pearls of Slum stopped by for a visit. He came early and prepared a delicious Indian meal for all attendees. The house smelled of curry chicken, chapati and chai. The sounds were laughter and excitement to try new things. Everyone shared the same disappointment when every pot was found empty, not a leftover morsel of all that yum.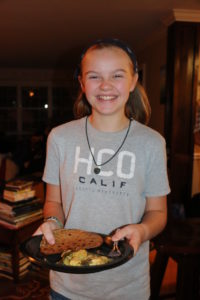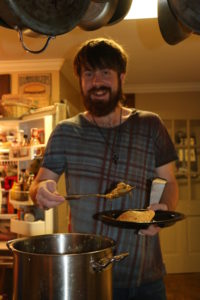 We shared worship together. Friends played instruments and we sang out to Jesus. We prayed and we sang and together we worshiped the One who is always faithful. On and on the singing went as new friends joined in. After which, Steven shared.
The story of his conversion from Hinduism to Christianity. His rough early years of marriage, his patient wife trying to tell him how to fill the void his life held. His chasing after this world and how it never satisfied. The worship of idols, education and self. The responsibility to do good that was never enough. How graciously Jesus met him and ministered to him and chose him as His own. We heard his heart for the slums, the untouchables, the desire for all people to have an opportunity to meet Jesus. He read us scripture and reminded us of our callings, our sure purpose to give our lives as worship. He lifted God higher and higher explaining how entire families are coming to Jesus and how it's worth the cost to leave his career and his possessions.
We are his Aaron and his Hur. We will be scattered all over the USA holding his arms up when he gets weak. We will be praying as he serves people in India. We will be his friends that pray for him and remind him of what is true when he is weary. He will be the sojourner in the faraway land, but he will not be alone.
"But Moses' hands grew weary, so they took a stone and put it under him, and he sat on it, while Aaron and Hur held up his hands, one on one side, and the other on the other side. So his hands were steady until the going down of the sun." – Exodus 17:12
We will rejoice when slum dwellers come to know Jesus, when they too seek the Lord and He delivers them from their fears.
As Steven shared, God used the word of God to minister deeply to Steven's heart and to find that the Lord Himself understood what his was feeling. He was on this search for what was true and God allowed the truth of His word to begin to set Steven free.
"I sought the Lord and He answered me and delivered me from all my fears." Psalm 34:4 and then "the Lord is near to the brokenhearted and saves the crushed in spirit." Psalm 34:18
Jesus saved him for the weight of how he could never measure up, do enough good deeds, worship all the idols, provide for his entire family, have joy, be content, and have kindness toward his own wife. Jesus saved Steven and transformed the very desires for his future.
He will go to India in November, ready to give his life for those who do not yet know our Father.
Please pray with us for Steven, for his boldness to the Gospel, for his passion to grow, for many to come to know the hope and peace of Jesus and for him as he leads his family in this lifestyle of faith and obedience.
If you wish to be a financial support to the ministry of Pearls of Slum, CLICK HERE to be directed to donate online, OR check donations can be mailed to: Grace Klein Community, 1678 Montgomery Hwy #104, Birmingham, AL 35216
Memo: Pearls of Slum