Galleria Woods Annual Christmas Wrapping Party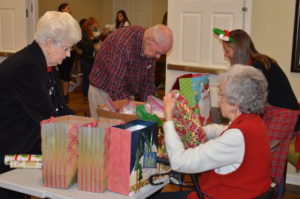 December truly is one of our favorite months here at Grace Klein Community. Our days are filled with Christmas drive collections comprised of toys for our Food Delivery kids, gifts for sanitation and HIV/Aids patients as well as non-perishable food items to love on families in Birmingham. On December 6th, 2017, we headed over to the Galleria Woods Senior Living Center for our annual gift wrapping "party."
For several years, the residents of the Galleria Woods have helped wrap the gifts. What a blessing they are to all of us. We are thankful for the love they share in wrapping the gifts, their enthusiasm and attention to detail. Along with senior resident volunteers, we had a very special group from the Classical Conversations home school co-op join us in wrapping gifts to love on local sanitation workers and HIV/Aids patients within our surrounding community.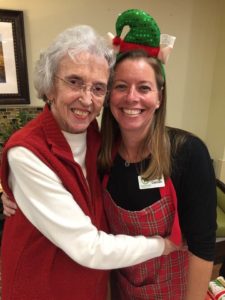 My (Rachael Cannon) heart was filled with joy to serve alongside the beautiful Tish Bagley and Shannon Reed. I met Tish several years ago at Liberty Church. What a sweet reunion to see her and rejoice together at what God has done over the years and continues to do in and through our lives. Please agree with me in prayer for Tish's healing from dizziness and back pain, In Jesus name.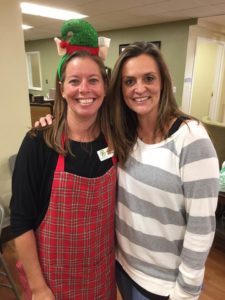 I have known Shannon Reed for over 20 years and our families are divinely connected. Our mom's pray together for us, so it was extra special to see her and bear witness together at the power of our mother's prayers that we would love and serve Jesus. Won't He do it! He is so faithful.
With the help of many 'jolly' volunteers, gifts were wrapped and ready in no time. Each bag was filled with items donated from various business partners, church partners and individuals through our Christmas drive and decorated by Classical Conversations students. Thank you so much to our ever so faithful volunteers, Joel and Gayle Gilbert, for leading the team.