Grace Klein Community Ladies Brunch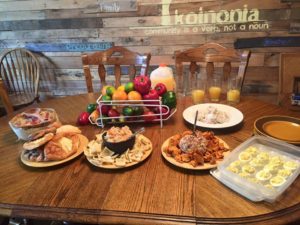 One of the awesome ladies of Grace Klein Community, Shannon Trammell, hosted two ladies brunches in the month of May.
For the first initial brunch, a general invite was shared inviting all the ladies of GKC to join us for a delicious meal, laughter and fellowship. With the dreary weather, some were a little hesitant. However, after two ladies arrived at the front door, three (host and guests) sweet strangers soon became friends.
"The ladies fellowship brunch was an amazing experience. There were ladies from all walks of life with different stories who shared. We laughed so hard, we cried. Grace Klein Community is such a blessing. I look forward to serving, laughing and sharing with more GKC ladies. Sometimes people are going through trying times and sometimes seeing a smiling face, getting or giving a hug and fellowship can bring healing to someone. I pray more ladies will attend and be blessed as we meet together every other week. " – Shannon Trammell
Five ladies came together for the second brunch. Lots of prayer, a few tears, and of course lots of laughter… and great food… you know it was an awesome get together.
"A few girls get together each week to share some food and love one another… sharing our thoughts and struggles we face. We pray and give each other encouragement! Anyone is welcome." – Debbie Griffin
Join Grace Klein Community at the next ladies brunch on Tuesday, August 1, 2017 at 11:00. Text Shannon on 205.862.3159 and let her know you're coming. All are welcome.
Location: Grace Klein Community House, 4756 Wine Ridge Lane, Birmingham, AL 35244