Grace Klein Community partners with Birmingham, Alabama Team Moxie to respond to Hurricane Harvey Survivors
Grace Klein Community was excited to receive the call from one of our community members of an initiative that he and some others began for those impacted by Hurricane Harvey. The community volunteers will be handling all coordination of this special relief effort. We operate as a community fueled by the love and energy of its members and are excited to mobilize volunteers to care for those in distress. Every day, volunteers of Grace Klein Community are mobilized to love – serve – share… repeat.
Grace Klein Community has partnered with Team Moxie, a local Birmingham team that has been providing strategic immediate relief to those impacted by Hurricane Harvey. Areas with the greatest need are always the first priority.
What is moxie? a force of character, determination, or nerve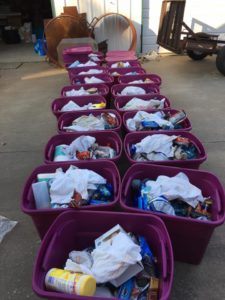 "Team Moxie has identified grassroot teams, ministries, and churches in areas hardest hit in Texas that have filled in the gap before larger national organizations arrived, areas being missed by larger national organizations, and remain serving faithfully after some national organizations have already left. These are local residents who have dynamic, effective distribution systems set up who believe in serving the greatest needs first, especially those that lack the resources others might have access to simply due to geography. Nearly all we partner with when delivering are volunteers and no money entrusted to us has gone to salaries.
Areas already served are Port Arthur, Kingwood, Cleveland, and a ministry based out of Portland that serves Rockport and its neighboring cities. Our current focus also emphasizes Livingston and Beaumont. There are families living in tents on their own property, having had their homes condemned by FEMA. They have no electricity or running water while they wait for their homes to be mucked out (mold removed and treated to prepare for repairs).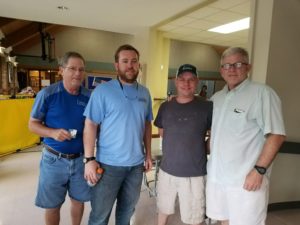 Team Moxie solicits, organizes, prepares, and ships goods as disaster relief. We also assist with other generous parties in redirecting their goods to areas of greatest need as situations change quickly on the ground. We communicate with our local partnerships in Texas nearly hourly when shipments are due to ensure the goods are still needed and to redirect when needed.
Team Moxie partners with generous and like-minded non-profits, individuals, national chain stores, and business owners to obtain goods and services for these identified faithful boots on the ground in Texas. We are excited to see what the Lord does through our new partnership with Grace Klein Community.
What You Can Do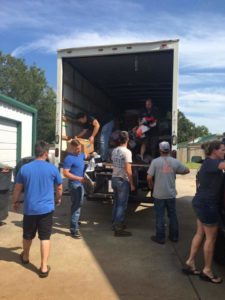 But what can YOU do? First, you can pray. Volunteers in Texas are exhausted and the needs they see are often overwhelming. Pray for their stamina and also their health. Some of the environments they are helping in have had water in them that has been tested positive for some nasty stuff. You can send money, goods, and gift cards. You can organize volunteer teams. It is the efforts of individuals like you that add up to create the huge stream of needed resources to local hurting communities in Texas. Every donation is important and appreciated. It also builds the faith of recipients that God answers prayers. Volunteers are exhausted in Texas. You can join in by sending gift cards to Home Depot, Lowes, Tractor Supply, and Walmart so local organizations can buy exactly what they need when they need it. Needs change fast.
If you wish to give financially, check donations can be mailed to:
Grace Klein Community, 1678 Montgomery Hwy #104, Birmingham, AL 35216
Or online at: gracekleincommunity.com/donate
Memo line: Harvey
Tangible donations can be dropped at the following locations:
Grace Klein Community, 2652 Old Rocky Ridge Rd, Hoover, AL 35216
Heavily Donuts, 4911 Cahaba River Road, Suite 105, Birmingham, AL 35243 (205.536.7200)
TrimTab Brewing Co., 2721 5th Ave S, Birmingham, AL 35233 (828.545.4746)
Impatient Creations, 1960 Fulton Springs Rd, Alabaster, AL 35007 (205.664.1447)
The Male Room, 620 Inverness Cors, Birmingham, AL 35242 (205.995.4285)
All questions can be directed to cindylsallis@gmail.com
An Introduction to Team Moxie:
Steve Russell – Team Leader
Steve has a big heart for disaster relief victims and lots of experience helping them. As a small business owner and resident of Birmingham, he has surrounded himself with other like-minded business owners and ministry leaders, including his great friends at Grace Klein Community of which he is a member. As a native of Texas, he is highly motivated to help rebuild communities and provide immediate disaster relief to Hurricane Harvey survivors.
Steve has served on volunteer search and rescue team First Response Search and Rescue as a SAR Tech 2 EMT, and tracker under the National Association of Search and Rescue. His experience in search and rescue included the Oklahoma City bombing and many abduction cases related to missing persons. He worked closely with the FBI, FEMA, local peace officers, and their search and rescue teams.
Steve brings many administrative skills, emergency response knowledge regarding needs, and his drive to help to the team. He personally logged 5000 volunteer hours at Cook Fort Worth Children's Hospital in ER administration and surgical recovery.
He has volunteered for several years at both Camp Sanguinity Children with cancer with Cook Fort Worth, Camp Reynal Camp for Children with Renal failure, and one year at Camp for Children with Sickle cell anemia. He also volunteered for one year for Dallas Children's for children with cancer. Lastly, he volunteered with Kid One Transport in Birmingham, AL transporting children to medical appointments who may not have had other transportation available.
He has also personally created several fundraisers for Kid One Transport, amongst other local charities.
Cindy Sallis – Logistics Director
Cindy's experience includes positions such as an administrator/controller of various law firms that have included the responsibility of opening new office locations, various capacities in the non-profit sector, including founder, CEO, Chairman of the Board and Volunteer Coordinator, and has held the office of the Vice President for various entrepreneurial endeavors in both Los Angeles, CA and Manhattan, NY. She quickly identifies the greatest needs as resources are made available and keeps a pulse on the constantly changing status of drop off locations in Texas, always making the most urgent needs the priority. She is a happy stay at homeschooling mom of three beautiful boys and plays a supportive, crucial role to this team.
Assistant Team Leader: Andrew Wilkerson
Andrew's experience spans more than a decade in the critical areas of property remediation and restoration involving storms, water, fire, and mold. He has spent countless hours coordinating relief efforts with local government officials and local businesses that occurred from Hurricane Ike in the Galveston/Houston community, following the devastating tornados in Ringgold, Georgia, and Hurricane Gustav in Louisiana. As a business owner of a roofing company specializing in wind and hail damage, Andrew brings invaluable expertise when it comes to the rebuilding processes homeowners in Texas now face. Andrew currently helps lead outreach efforts in his local community of Alabaster, AL through Church of the Highlands in assisting with home repairs."
– Team Moxie