He Kept His Promise
"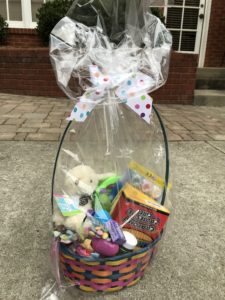 You know how in the book of Esther, none of God's beautiful names are mentioned? Nope. Not one single name, not Yahweh, not Abba, not Lord and not Father. But if you know Esther's story, you know God's grace, mercy, sovereignty and providence are sewn throughout the story of Esther. Mordechai just happen to overhear a conversation. Vashti refusing to appear at the king's banquet and Esther was chosen to succeed her. Esther, approached the king at just the right time. All of these events not only saved the life of Mordechai but a nation! God sometimes appears absent, but He is always present. He is El Roi, the God who sees!
At the last minute, on March 13th to be exact, I had an idea to provide Easter Baskets for children in foster care. I was thinking maybe ten baskets. I contacted Alabama Baptist Children's Home to see if this was even possible because it was so late. They put me in touch with a group home mom,  who said she needed TWENTY THREE Easter Baskets! I had to make this work but how? The goal appeared to be impossible. But God…..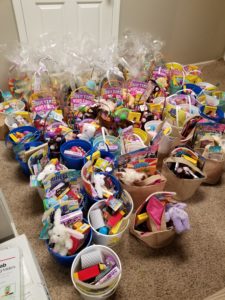 I reached out to my friends at Grace Klein Community and the donations started pouring in. Candy, toys, grass, baskets, eggs, stuffed animals, books and money. Still not enough for twenty three Easter Baskets but just like the fishes and loaves, more and more started pouring in. Before I knew it, I reached the goal and donations were still coming in. I contacted Alabama Baptist Children's Home again we set another goal of 46 to serve two homes. Within a few days, that goal was met and still more donations were coming!
Grace Klein Community said they could use Easter Baskets as well. Now, I needed time to put the baskets together and to deliver them.  As I began to put the baskets together, I was blown away by the numbers. Within ten days, donations had covered FIFTY NINE baskets! He abundantly provided. Each basket contained books, toys, eggs, a chocolate bunny, a stuffed animal, bubbles, and many surprises for the children. They were beautiful!
God provided the time as well. As I wrapped each basket, I prayed for the children that would receive the basket. Hoping I put just the right items for a specific child. I wanted them to know they were loved, they were enough, they were chosen and that He went to the cross thinking of them.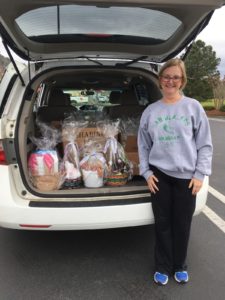 I packed my van full of beautiful Easter Baskets, with beautiful bows and items. Still in awe of how He provided. I met the group home mom to deliver, who was so grateful. She told me, you have no idea what a blessing this is. I have been praying for Easter Baskets!!! She told me they just did not have it in the budget this year! She feared that time was running out until she got the call, that someone was providing the baskets! We both talked about His provision, both awestruck!
During this entire process, I just could not believe what I witnessed. How He provided through His people. How He cares for the vulnerable, how He cares about us, even in the little things. I know these children will appreciate and love the baskets. But I think I will forever appreciate working on this project. He spoke to me in mighty ways.
Thank you to all of you that prayed, donated and provided for these baskets, you were created for such a time as this.  Remember, when He appears absent, He is present!" – Rhonda Gibbs, Community Volunteer
---
We are so thankful for Rhonda Gibbs hearing God and leading the charge. Thanks to her listening to Jesus and giving us clear directions, we worked together and provided Easter baskets to 59 children.
In every Easter basket, the Resurrection of Jesus was explained through a simple book that children can understand.
We work together to spread love and love comes from God. God sent Jesus because of His great love for us.
Let us continue to share Jesus until the whole world knows the One who loves us so much that He died and rose again to set us free.
"Therefore, there is now no condemnation for those who are in Christ Jesus, because through Christ Jesus the law of the Spirit who gives life has set you free from the law of sin and death." – Romans 8:1-2