Jack's Gives Back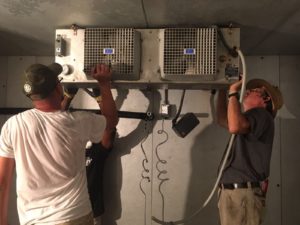 Refrigerator and freezer space at the Grace Klein Community office has always been a challenge. We have dreamed of having a walk in cooler/freezer, but could never have imagined how God would bring a long chain of events and relationships together to provide one for us.
On Monday, July 17th, a team of volunteers traveled to Fort Payne, AL to pick up a walk in refrigerator/freezer donated from a Jack's restaurant. The cooler is huge… 22 feet long by 12 feet wide, two separate rooms, one for a freezer and the other a refrigerator. 8 people and 6 hours later… the fridge/freezer was finally disassembled and all components loaded into the box truck and a trailer. Community friends graciously offered warehouse storage space for our big addition of "Jack's Gives Back" until Grace Klein Community has sufficient space.
Thirteen hours of work, including travel time, was such a small labor of love for the thousands of families who will benefit from the food that will be stored in this massive cooler.  Without the great crew of volunteers who came to serve, the collection of the freezer would have been impossible. The crew worked in a restaurant without power and in a cooler that was defrosting. Talk about heat and humidity… being dripped on and pouring sweat all day. Imagine that smell, haha! Praise God for His hand over this process. The crew joked together, sweated together, and had a great time. It was an awesome day of serving and community building for a group of men, many who first met at 6am that morning.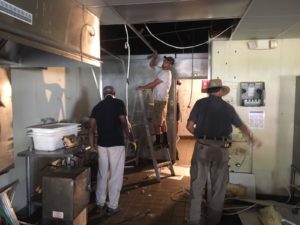 So, how did this all come about? A friend of Grace Klein Community asked a simple question about 6 months ago: "What do you guys need the most right now?" The answer given was: "more refrigerator and freezer storage for the food we receive to give away. We had no idea that God would then go on to orchestrate conversations between him, a local mayor, a Jack's franchise owner, and then us again to provide for this need. God also provided someone, in the Fort Payne area, licensed to disconnect the power and compressors from the unit, and lead the team in disassembly and transport.
So, where are we going to put this freezer at the office? Well, that is where the 50K50days campaign ties in. We need to raise the funds to expand the office to house the fridge/freezer and the extra food that we receive daily.  We are close to 20% of our needed goal thanks to over 80 different donors who have already contributed.  Be a part of 50K50days with us!
Please consider making a contribution to help fund the expansion and our ability to serve more families. Check donations can be mailed to Grace Klein Community, 1678 Montgomery Hwy #104, Birmingham, AL 35216 or CLICK HERE to be directed to our online giving page. Please include "50K50days" in the memo line.
Read more about the 50K50days campaign HERE.