Joyfully Optimistic
"To call Ms. Penny a fireball is as much an understatement as is calling the lioness a kitten. The energy she brings to GKC community is dramatically started and joyfully optimistic. When someone comes by the Sunday Trade Market, she is virtually always the first person to ask them if they have enough milk/eggs/bread/etc., and with cheer in her voice, helps accommodate any questions or needs the person may have.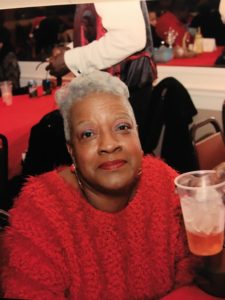 Penny says she started working at GKC community simple because she is a people person–it is just in her DNA to help people, and boy–does she! Her natural compassion for everyone that comes through that door is evident by her enthusiasm to get to know the individuals within the community. Several times I tried to speak to Ms. Penny for an interview, but every time we would get cut short, because she would begin serving someone. Now that–that is a woman who has her priorities straight! There were several times I would be looking for Ms. Penny, and I would ultimately find her outside, in the blistering heat, helping someone with their bags and consoling them with words of empowerment and/or worship.
Additionally, she truly makes GKC a family affair. On one of the Sunday Trade Markets, Ms. Penny brought her daughter and grand baby to partake in the goods, helping to spread some of the love within her innermost circle. As someone who is trying to encourage her own family to eat GKC food with her, it is inspiring for me to see multiple members of a family, who do not necessarily live together, still living this shared lifestyle in tandem.
We cannot thank Ms. Penny enough for all she gives to GKC. Everything from her laugh, to her knowledge, and her eagerness to help–she is truly an invaluable resource."
– Cassidy Clevenger, Samford University Intern