Keys to the Kingdom
"Short and sweet, I want to tell you why I'm here.
Over ten years ago I was in Swaziland, Africa with a team that had been traveling for over six months. We were tired and failing as self-righteous little missionary wannabes. The religion most of us had grown up in expected us to do the right thing. The good thing. The nice things that don't rock the boat. I guess that's what, as supporters, they expected because that's what they knew. We had our pictures of the Swazi orphans and care points. Our lists of prayer requests. It was fine.
Then we were challenged. And probably rebuked a bit as well.
But this is good. This is healthy. (2 Timothy 4:2) We needed to know it's not all about us. I remember we spent many evenings at the home of American mentors. We would pray together and hear of their life lessons and Kingdom principles and Bible stories you would never hear in Sunday School. And like most good students I only remember one thing:
"And I will give you the keys of the Kingdom of Heaven. Whatever you forbid on earth will be forbidden in heaven, and whatever you permit on earth will be permitted in heaven." (Matt 16:19)
We were actually empowered with the Word. WE. We could ask for the keys to the Kingdom. We could ask God what we wanted to unlock for the Kingdom of Heaven. I wanted a generation.
So, one afternoon I was by myself under the shade of a tree in the dirt of a front yard in Swaziland. This had become one of my favorite countries for so many reasons and I could feel God's love inviting my heart to open wide. He was daring me to believe Him. To trust Him with this promise. For an amount of time that was significant enough for me to know that moment was real, I begged God. I begged God for the next generation. I wanted the keys to unlock their hearts and minds and souls to His love. To see a young generation rise up like dry bones. I wanted that – with both hands raised!
Soak that in. And wait ten years. But don't forget what just happened between me and the Almighty Father. He won't take our promises lightly either.
I am now in an arena where my only job is to teach young people. In the week-long career as a teacher (still weird to call myself that) I've heard God saying there is more. It goes deeper.
"Cait, I've already given you the key to this generation. Use it like you have been. But ask for more. Ask for each kid. Ask for each heart. Ask to know each voice as I know it."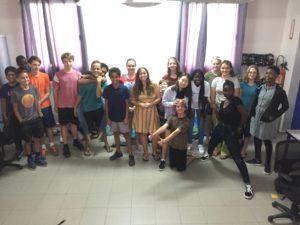 When God first told me that, a few days ago, I pictured a big door that goes into a hallways of many more doors. He's given me the key to the big door and allowed me to walk through it. Now He's kindly showing me there's so much more of the Kingdom to open within these young people.
I am in awe and humbled by His patience and unwavering belief in me. How GREAT is this GOD that He nudges me to remember a promise, a moment, we had together ten years ago. And not even for my benefit – though I am LOVING it here – but for His glory as He yearns for His children to know Him. It's big." – Caitlin Woodward