Our Father's Faithfulness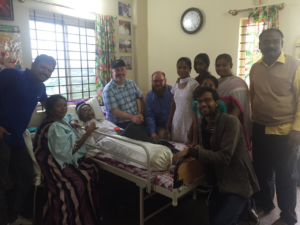 A few weeks ago, Scott Elliot and I (Todd) were in India in support of Grace Klein Community's global partner, Madhuri's Mission. The week-long journey took us to sites where our partners are involved in church planting and care for the poor.
The first few days were spent in Bangalore, where Pastor K. Vijaya Chandra and his wife, Manjula and great nephew, Krupa, lead the Hanna Krupa Memorial Church.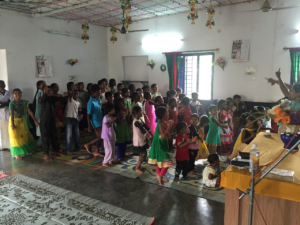 We spent Saturday in their home, where Chandra is recovering from typhoid and continuing his battle with thyroid cancer. His spirits are high, and his energy for ministry is as strong as ever. On Sunday, we spent the day at the church, where the children's program filled the morning with singing, games and a healthy meal. ** Around noon, the adults trickled in from work for worship and Bible study, and they stayed a little longer to welcome Scott and me. We felt a deep kinship with them. God's Spirit works the same way everywhere in the world, so when we met our brothers and sisters, there was an immediate bond and fellowship between us.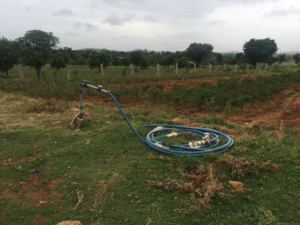 Our next destinations was Daburuvaripalli (known to us as Grace City,) where Grace Klein Community has raised funds in recent years for development. Last September, Grace Klein Community hosted the Love India event, raising enough money to fit the well at Grace City with a pump motor. We learned that the farmer whose mango field sits immediately north of the Grace City campus had attempted three times to dig a well, finding no water. God blessed our friends on their first attempt, and the water from the well is plentiful enough to irrigate the Grace City property and the mango field! The land that was brown and weedy three years ago when we first visited was green and productive. We ate a lunch made from the radishes, chiles and tomatoes from the garden and water from the well. There is an older couple living there, working the land, and blessing the people of Daburuvaripalli with vegetables.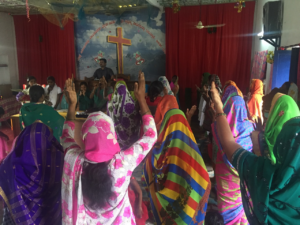 Leaving Grace City, we spent the next few days traveling to villages where there were small churches. Nathaniel, Chandra's nephew, trains pastors all over Andhra Pradesh, and these village church visits were opportunities for Nathaniel to build relationships with the young pastors. There is a tremendous need for discipleship among these new pastors. Many of them are recent converts, and some are ill-equipped to disciple new believers. They need training in leadership and theology, and we hope to lead a team back in 2017 to help train them.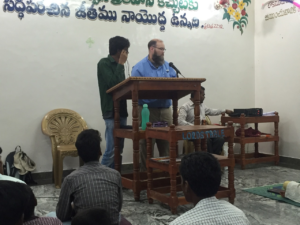 An overnight train ride then took us to Ongole, Nathaniel's home town. There, we visited with Nathaniel's family. His wife, Vani, and their four young children welcomed us into their home. Three years ago, Jennifer and I had the privilege to visit Ongole and Nathaniel's support ministry for children with HIV. Scott and I visited the children again, and they looked well. I remembered their faces, and was so encouraged to see them prospering. Over the last three years, we have been blessed to send support for these children, assisting in their nutritional needs. We hope to expand this support in the coming months, raising enough support for all of these children to have three full meals every day, and to find friends from the US who will send letters and emails, encouraging the children and getting to know them. Most of these children will die sooner than their healthy peers, but Nathaniel's desire is to see them live their years in the knowledge of their Creator, who loves them and promises everlasting life and joy.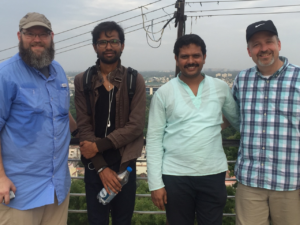 From Ongole, we traveled by train to Chennai, where we departed for home. It was a sad good-bye, but we hope to see them all again soon. As we move forward, we are asking God to provide opportunities to speak about the work that He is doing through our friends in India. He is leading us into a deeper partnership with them, and we are praying for more groups and churches from the US to come alongside us in this work. If you know of a group or church who we might encourage with our story, please let us know! Contact todd@gracekleincommunity.com
Thanks to the many of you who prayed, who gave, and who joined with us in this effort! We saw the evidence of God's faithfulness, and we can't wait to see what He has in store for the coming year.
** This past Sunday, two weeks after we were with the church, some young men stormed in during the children's program and began shouting and beating the children. 40 of the 70 present were driven out. We are praying that God will spare them from continued persecution.