Perfect in All of His Ways
*Read all the way to the end to experience the perfection of God and how He incorporates many different interactions for HIS glory.  He is truly perfect in all His ways.
Back story:
At the beginning of the 2017/2018 school year, our full time volunteer and Ministry Advocate, Natalie Spronk, received a call from a lady serving with a Single Mom's Ministry through Church of the Highlands.
Together, Church of the Highlands and Kelly were loving on single mamas by providing their children with much needed school supplies to begin the new year. After their supplies were fully given out, Kelly contacted Natalie to ask if mamas who hadn't yet received items could be referred to Grace Klein Community for consideration for assistance… of which we said YES! At the time, Grace Klein Community business partners, Precision Chiropractic and Shelby Pediatric Dentistry, were going head-to-head in a challenge to see who could collect the most school supplies to love on Birmingham families through their businesses. Grace Klein Community also hosted a "social media push" to create further awareness amongst the community about the need for school supplies.
Through Grace Klein Community, 78 children were provided with a bag filled with fun school supplies for a fresh start to the new year. Wow God!
Which brings us to December 2017:
Church of the Highlands hosted another event ministering to the hearts of single mamas by providing opportunity for the mamas to select a certain number of items for their children this Christmas. To our surprise, Grace Klein Community was selected as the receiving organization for the remaining supplies after their event. Prior to receiving the items, Grace Klein Community had already covered 78 children for Christmas through individual child sponsorships. Together with the box truck size contribution from Church of the Highlands, and donations from various business partners, ministry partners and individuals, 303 children were sponsored through Grace Klein Community this Christmas!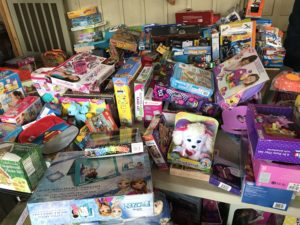 Bicycles, razor scooters, clothing, warm gloves, socks and toboggans, toys for babies, toys for toddlers, toys for children and teens, educational games, Bibles, coloring books and crayons, crafting kits… and more were distributed throughout Birmingham to care for families needing a ray of sunshine to brighten their day.
Referrals received gifts with tears of joy when collecting items to deliver to families. The abundance from the Father took their breathe away. Not only were specific needs met, but many desires from the hearts of young ones were noticed and provided. A student needed a laptop for school. God provided before she even asked. Twins desired skates, both individual sponsors loved them well. Those with special needs were cared for in their very specific ways. Moms called to thank sponsors for taking the time to look for that unique gift that would love their child to the deepest level of their hearts.
Sponsors shared how giving to love on families this Christmas impacted their hearts very personally:
"Our family takes to heart the call of Christ to serve others. We've been blessed with the opportunity to directly serve those who are less fortunate and love working with Grace Klein Community each year to help a specific child, and we look forward to more opportunities!" – Matt 
---
"One of our family's favorite parts of Christmas is adopting a Grace Klein Community child! I do not enjoy shopping but when shopping for this I have such fun! Knowing our child has real needs makes it feel so 'right'. Giving truly becomes a joy! As if we are, in a small way, following Christ's sacrificial example to us." – Annette 
---
"My ten year old daughter and I received so much joy shopping for this child! For me, Christmas shopping typically involves searching for unique gifts for people who already have too many things! Knowing that this little girl was in need, made buying her presents joyful instead of stressful!" – Marnie 
---
I'm glad we could be a small part of making sure that every child has a present under the tree at Christmas. We don't have kids, so it's the one time of year that we get to shop for the little ones. Hopefully they enjoy their gifts as much as we enjoyed shopping for them! – Stacey 
---
"It is a blessing to be able to bless someone else. This year, we are fortunate to have the means to help another family for Christmas. For us, giving is the spirit of the Season. It isn't about buying toys for children who have everything they want but for helping those in need." – Laura 
---
"I recently had the pleasure of participating in one of Grace Klein Community's outreach programs with a wonderful group of neighborhood women called the "Ballantrae Bunco Babes." A young mother was in need of help in providing Christmas for her two young daughters.  Our group adopted this family to try to bring some joy and love to these young ladies during this special time of year. It was truly a rewarding experience for me! I took my two young granddaughters (ages 7 and 10) with me on this shopping excursion.  The girls embraced this opportunity to do something for others in a way that melted my heart and brought tears to my eyes!  They were thoughtful and practical in their gift choices and engaged in excited and mature conversations about the importance of doing for others.  This was a very special memory for the girls and I.  We were able to share in the gift of giving to others, as well as create a tradition for us to share in the future!  We feel truly blessed and humbled to have been a part of this. – Connie Kyes, Ballentrae Bunco Babes
---
Partnering with the Grace Klein Community allows our family to experience the Joy of serving and giving. It's one thing to give to loved ones who have desire. But it is quite another thing to give to those who are truly in need and to know that we are making an impact for God's Kingdom. – James and Ellen Cuneo and Family
---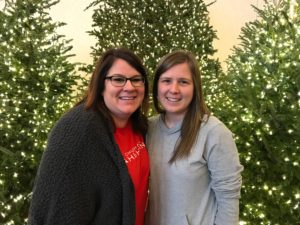 Fun Fact: Do you remember the single mama event hosted by partner ministry, Liberty Church? Grace Klein Community prepared a number of food boxes filled with non-perishable food items to love on the mamas and their families at the event in April last year. Kelly, our Church of the Highlands contact, was actually one of those mamas on the receiving end at that time. God connected her with our friend, Samantha Ferguson of His Hands Photographs, who not only coordinated the event, but also blessed the moms and children with family photographs. Samantha shared Grace Klein Community with Kelly, connected her and Natalie, and a beautiful partnership evolved.
Although Natalie and Kelly had not met until very recently, their friendship was beautiful with God as the true common denominator. Natalie and Kelly have worked together so well this year in coordinating opportunities to care for single moms needing an extra helping hand.
Another Fun Fact: Samantha Ferguson and Natalie met in Zambia, Africa in 2014 during a Grace Klein Community team visit to ministry partner Kwathu Children's Home.
God is so perfect is all of His ways. He hand picked a girl from South Africa, a photographer in Alabama, and a single mama with two beautiful girls to work together to show many the HOPE of Christ through simple acts of kindness.