Red Beans and Rice – Christ City Church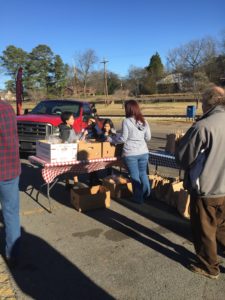 "Grace Klein Community loves Christ City Church in Lipscomb, AL. We are so thankful that the Lord allowed our paths to cross and we are so excited to connect our communities. Meredith Phillips, the Operations Director of Christ City Church, explained how the Red Beans and Rice ministry was started because of the lack of grocery options in the city of Lipscomb when I met her at the monthly distribution. Lipscomb is a "food desert" which means it is an urban area, without proper grocery presence, making it difficult to buy affordable or good-quality fresh food. "Food Deserts" negatively influence the health of urban residents and impact the children's grades in school due to lack of focus.
On the 3rd Wednesday of each month at Lipscomb City Hall, Christ City Church sets up food tables in the parking lot from 3 PM – 5 PM, as kids are getting out of school and parents are getting off work. They serve approximately 100 families with Red Beans and Rice. In each brown bag families receive about 3 lbs. of rice, and 3 lbs. of red beans, with an onion and a chicken bouillon cube and anything else that has been donated by their church family. Grace Klein Community will be donating fresh bread along with anything else the Lord provides that we might share.
As I stood in the parking lot talking to Christ City Church family and loving on their Lipscomb community, I saw heaven touching earth. This is what love looks like. We are thankful to be a part of what Christ City Church is doing." – Rachael Cannon