Remember Our Smallness
Mighty Oaks grow from small little acorns. Many days we need to remember we are little acorns and God is seeking to grow us, not just our children, into mighty oaks. We are all growing and He is not finished with us. 
The more we learn to appreciate learning, change, growth and trust, the more unending are the possibilities in which God may choose to use our lives. One such way He has grown the families of Mighty Oaks Cooperative is through their Thanksgiving food bags they collected for Grace Klein Community food boxes. A small army of families prepared 100 Thanksgiving bags which included 2 cans of green beans, 1 can of corn, 1 can of yams/sweet potatoes, 1 can of cranberry sauce, 1 can of pumpkin pie filling, 1 box of stuffing mix, 1 packet of instant potato flakes, 1 can/jar/packet of gravy mix and a handwritten note of encouragement.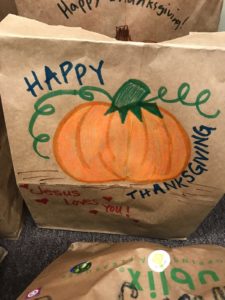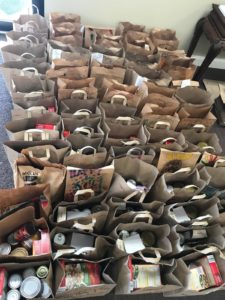 Shelby Crossings Christian School also collected the Thanksgiving food items and incorporated their share into a serve day at Grace Klein Community.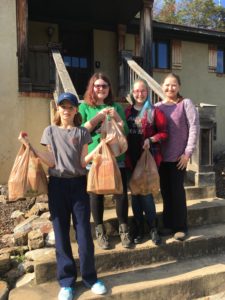 These Christian homeschool groups understand the history of our country and how our Pilgrims came for religious freedom, having little, but possessing everything. 
At Thanksgiving, we celebrate the many reasons we are thankful and in our overflow of gratitude we remember to care for others. 
As William Bradford, the leader of the Plymouth Colony in Massachusetts said, "As one small candle may light a thousand, so the light here kindled hath shone unto many, yea in some sort to our whole nation."
Let us remember the smallness of who we are and how our one small candle can light many and shine far. 
"Volunteering with GKC has been a wonderful experience for our family. When we discovered how many families were served every week by this ministry, we were amazed. Everything is very organized, and they do an excellent job making sure that nothing is wasted. To know that we could contribute in some small way, sorting clothes and shoes, decorating bags for food, or any number of ways helps our family to be mindful of those who are struggling, and to be thankful to God everyday for all of His blessings!" – Mighty Oaks Homeschool Co-op Mama
"My 10 year old son and I enjoyed shopping for groceries to fill a Thanksgiving bag. I love opportunities for he and I to shop together for items that will bless families in need. This was a great reminder that there are families in need right here in our community. He and I had a conversation about that and prayed for the family that will receive our groceries. It was a blessing to participate in this project." – Shelby Crossings Christian School Mama