Samford Serve – April 1, 2017
From daily food rescue, to the Give and Take Room, feeding the chickens and watering the garden, to Networking events and Family Fun Nights, there's often not much breathing room for office staff and our regular volunteers. When a church, business, school or sports team offer to give of their time to serve, we say: "Yes and Amen!" Serve Days are a blessing!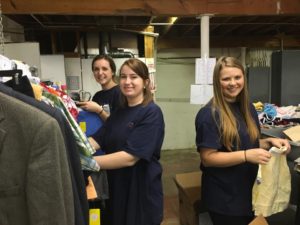 On April 1, 2017, Samford Serve Students were divided into groups, serving at three different Grace Klein Community assigned sites in Birmingham. One group gave their sunny Saturday morning to wash windows, mop floors, hang clothes and share love at Purpose Place Thift Market, a valued business partner of Grace Klein Community.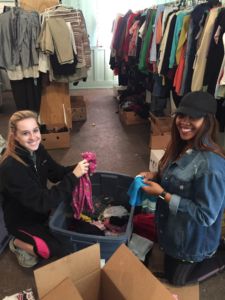 Another group served at Metro CME, a ministry partner of Grace Klein community. The group assisted by cleaning various rooms in the church, as well as sorting and organizing donated clothing. Metro CME has a donation room, similar to our Give and Take Room at the Grace Klein Community office, primarily stocked with the overflow of items given to Grace Klein Community.
Others served at the home of one of our community members, a single mom of two. Read Newer's beautiful testimony of the blessing she received: "Oh, how awesome it was to recently have four super students from Samford University visit. Grace Klein Community gave me a call and let me know that they had some students who needed credit to fulfill their requirements at school. I could not have been more excited to be a participant in such a situation! They came over to my house and cut grass, edged and bagged leaves. What outgoing young people who each have a separate and particular path set out before them in this journey of life, and what a blessing that my yard was one of the stops along their merry way!!! God continues to surprise me with different size blessings, and all thanks goes to Him, who alone is worthy." 
We're so thankful to the the Samford Serve Students and Grace Klein Community volunteers who assisted with the serve day.
If your church, school, or business is interested in serving with Grace Klein Community, email amaris@gracekleincommunity.com for details. Serve days are a great way of getting involved in the community of Birmingham.