Shelby Crossings Christian School – Food Drive
Our monthly food delivery ministry is a great way to get involved in the community of Birmingham, Alabama. Our volunteers go out once a month, all over Birmingham, to deliver food boxes to families in need of food. But, it's about so much more than food… we seek to build relationships with people and walk through hard times with them. We wholeheartedly believe that meaningful, long-term relationships are a key factor in alleviating poverty.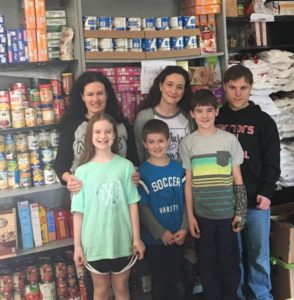 Shelby Crossing Christian School's (SCCS) partnership with Grace Klein Community evolved naturally several years ago. After Grace Klein Community members began homeschooling with Shelby Crossings, and shared more of their unique approach to life, sharing everything in community and seeking ways to serve others daily, SCCS administator and founder, Jennifer Vines, was inspired to incorporate more service opportunities into the school calendar.
SCCS has served with Grace Klein Community in various ways over the years: Making laundry detergent, organizing the Give and Take Room, contributing items for yard sales, donating small Christmas gifts for nursing home residents, manning the Sunday Trade Market and spreading the word of donated groceries needing disbursement.
For the month of February 2017, Shelby Crossing Christian School (SCCS) hosted a food drive in support of our food delivery ministry. We are so thankful for their willingness to serve, their enthusiasm to include their families, friends and surrounding communities, as well as their pure hearts of compassion to love those in need. One of the students asked her friends to contribute items toward the food ministry instead of gifts for her recent birthday party. What a precious soul!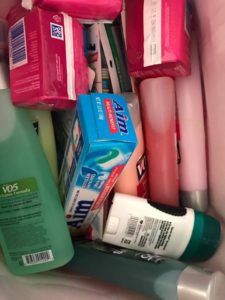 Here are some examples of what the students collected:
Rice
Beans
Pasta
Peanut Butter
Instant Mash Potatoes
Cereal/Oatmeal
Canned Goods (vegetables, fruits, meats, spaghetti sauce, etc.)
Flour
Sugar
Oil
Box Cake Mixes
Snack Bars
Cookies
Popcorn
Chips
Juice
Apple Sauce
Crackers
Nuts
Toiletries (shampoo, soap, toothbrushes, toothpaste, dental floss, toilet paper, wash cloths, feminine products, wipes, razor blades, deodorant, combs, etc.)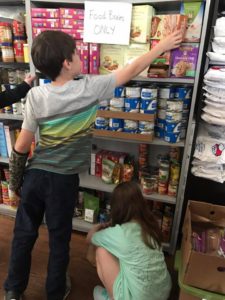 Have you been thinking about ways that you could get involved in the community of Birmingham? Or ways to engage your child's club/sports team in a service project? You can host a food drive in your neighborhood too! Email us with a date/month for your planned food drive and we can supply you with a sample flyer that can be edited and distributed throughout your neighborhood. If you have other creative ways of collecting various food items to support the monthly food delivery ministry, be sure to let us know. Email natalie@gracekleincommunity.com
Thank you Shelby Crossing Christian School for supporting our monthly food delivery ministry, and for setting such a great example for us in ways that we too can get involved in our community.
---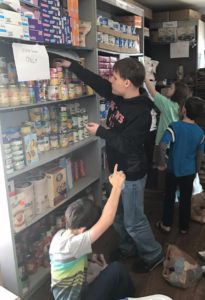 "My kids and I were so happy to donate items to the food drive for Grace Klein because they do amazing work in the community. They help so many families and have been such a blessing to us. We have been on the receiving end of their help and want to pay it forward whenever we have anything we can share. They are a daily reminder of how we should be treating others and helping our neighbor. I'm so thankful to know about this great organization and to witness the work they do." – Krissy Cain
"We learned about Grace Klein Community through Shelby Crossings Christian School and community member, Jennifer Vines. From their mission statement: "to show people that they are loved and to spread the idea that everyone has something to give," Kensley felt led to collect donations for Grace Klein Community instead of receiving presents for her birthday party. We are so thankful for the opportunity that our family and friends had to share out of our plenty through Grace Klein Community." – Celeste Clough