So Very Happy
"I've got the joy, joy, joy, joy
Down in my heart (Where?)
Down in my heart (Where?)
Down in my heart
I've got the joy, joy, joy, joy
Down in my heart
Down in my heart to stay
And I'm so happy
So very happy
I have the love of Jesus in my heart
(down in my heart)
And I'm so happy
So very happy
I have the love of Jesus in my heart"
Sometime between 1848 and 1923, a George Willis Cooke penned the words to this joyful and catchy song. If you've ever sang it, you will remember the tune, and you may be breaking into song right now.
The lyrics continue to a variety of stanzas to a favorite that makes the adults giggle and the kids cheer…
"And if the devil doesn't like it he can sit on a tack, ouch, sit on a tack, ouch, sit on a tack. And if the devil doesn't like it he can sit on a tack. Sit on a tack to stay."
And then the song gets louder as everyone repeats …
"And I'm so happy
So very happy
I've got the love of Jesus in my heart…"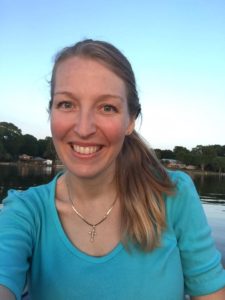 When you meet Joy Hulsey, you will feel the love of Jesus that she has down in her heart. Her name is the perfect description of what her life emulates. Maybe God led her parents to name her Joy because He knew she would embody the name so perfectly. He created her to be an image bearer of Christ, and He puts that joy, joy, joy down in our hearts.
One of the first times Joy came to GKC was to a Sunday Market. She stayed the entire time, considering all the food available to share, carefully packing care packages for families that needed encouragement, and listening to all the stories and laughter around her. She must have left with a van load, ready to dispense joy with a box of bananas, some fresh bagels, and shredded carrots.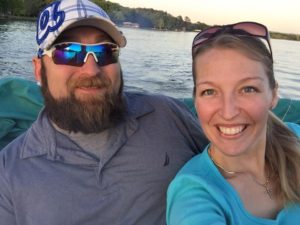 She has her own deep pain and sorrow, but her joy hid all of that from many of the people she greeted that day. Either that first or second time she came to market, someone innocently asked her how many kids she had. She choked up and that usually chatty volunteer went really quiet. She stilled and she waited. Joy shared her story as that volunteer stood with her. They both wept, leaving two little puddles of tears on that floor. The moment was holy.
Joy reminds us that behind all the smiles, there is deep pain. For many, we never fully grasp the difference between happiness and joy until we look in the face of sorrow, trials and uncontrollable pain. During the surprise depth of an ordinary day, the gift of community resonated the joy of authenticity that happens when two strangers care enough to ask questions.
Next we knew, Joy Hulsey started stopping by to serve, to share, to love. She started noticing items around her house that would bless someone else. She joined the Acts 4:32 group and began watching how God provided need after need as one post came after another. One day she noticed the office was out of hand soap and felt God challenging her to share her best. If you washed your hands lately at the office, that fancy soap is from God via Joy.
As we prepared for the annual Bambelela Drum Circle, Joy signed up to make treats for the cake walk. She spent all day cooking with her little girl and then came and enjoyed drumming with her family and got to know more friends in community. Joy and her family even stayed late to help clean up after the event and set all the chairs back in the correct layout. Joy never complains, but is eager to love and serve.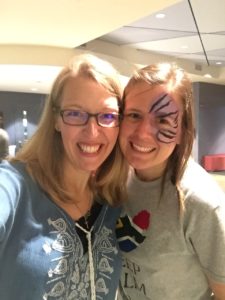 Thanks to Joy the GKC market stays open until 6pm on Mondays. She comes to the office to extend the office hours so friends can come get food later in the day. While she's there, she cleans the floor, sorts produce, organizes the fridges and wipes down the serving tables. She prays with volunteers that stop by, helps load food into cars and hands out hugs and flowers.
As a contributor to our community, Joy makes us better. Her life situations teach us how God gives us deep abiding joy, when we learn to trust Him, despite the way being hard, difficult, and every way we never wanted.
When we meet these Joy-filled members of our community, consider the road they have walked, ask their stories and listen for their pain. Often our easy doesn't purify and refine us, but oh that hard can makes us beautiful, filling us up with His immeasurable joy.
"May the God of hope fill you with all joy and peace as you trust in him, so that you may overflow with hope by the power of the Holy Spirit." – Romans 15:13