Stirring Up One Another to Love & Good Works
"And let us consider how to stir up one another to love and good works,  not neglecting to meet together, as is the habit of some, but encouraging one another, and all the more as you see the Day drawing near." Hebrews 9:24-25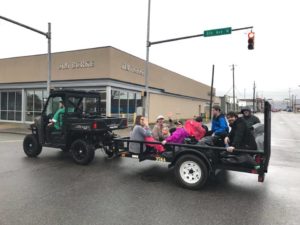 Bright & early on the morning of Sunday, February 11, 2018, volunteers from Grace Klein Community gathered behind the runners at Birmingham's Mercedes Marathon to collect clothing donations runners dropped as they ran the marathon. This is the 8th consecutive year Grace Klein has served at the Mercedes Marathon, and God has always seemed to bring us a special blessing, and a fond memory through the experience. Whether it be meeting Lois two years ago, or experiencing the way the children turned last year's experience into an adventure, God always has something special in store.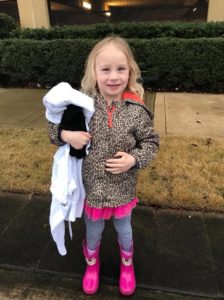 This year, despite rainy and somewhat chilly weather, God brought together a diverse set of volunteers to work together in His Name. Middle Schoolers Unite of Birmingham joined us, bringing dedicated young workers who ensured that we didn't miss a single piece of clothing. One of the leaders brought one of their children along, the youngest of the bunch, and she was the most enthusiastic to jump out and grab whatever clothing she could find. The smile on her face when she found and brought back a piece of clothing showed an enthusiasm to serve that inspired everyone around her.
One community member, Kellyann had her husband running in the race, and graciously dedicated much of the time that her husband was running to help us pick up clothing. She brought wonderful conversation and fellowship. Another community member, Holly, came to give a hand, and she and Kellyann walked and rode together picking up clothing, bagging it, and bringing it back to the trucks, all with smiles on their faces and joy and encouragement in their words. We even had a couple join us, Jeremy and Anna, bringing a fun spirit to our team.
As we walked and rode on the back of the truck, many conversations were had, some about the restaurants and shopping centers that we passed, some about some interesting new clothing items we picked up for donations, and some conversations even leading to why we were serving that day, to love our neighbors and to serve the God who loves us.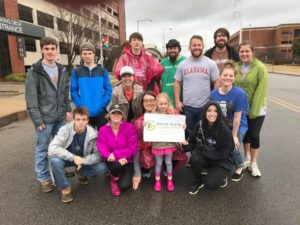 Each member of this year's Mercedes Marathon volunteer team made a huge impact on the joy and efficiency with which we collected clothing to provide to families in need that morning. None of us could have done this alone, and even two or three of us would have been greatly challenged to successfully serve in this way, but with the whole team, we made it look easy, we made it fun, and truly showed how when it comes to serving, we are "Better Together." Through laughter, joy, and willingness to work with a servant's heart, we encouraged one another, and stirred each other to love and good works.
We are so thankful for Guy Roemen with Landmark Landscape Group, and Mr. Ziba Anderson, for the loan of the Polaris and Kubota equipment, and for every volunteer that joined us to serve at the Mercedes Marathon, and for the love they showed for us, our community, for families in need, and for the Lord through their serving. We look forward to what God will bring in the coming year serving at the Mercedes Marathon.