Support for Shaggy – One Year Anniversary
"Time has passed so quickly since our last update on everything happening in Evan's world. His last MRI results were wonderful! The words were "stable and improved!" God gave us more than we know was possible when the word "improved" was included in the report. Thank you to family, friends and supporters for all the prayers. We are happily overwhelmed by God's goodness and so many wonderful people with such giving hearts.
"Now to him who is able to do far more abundantly than all that we ask or think, according to the power at work within us, to him be glory in the church and in Christ Jesus throughout all generations, forever and ever. Amen." – Ephesians 3:20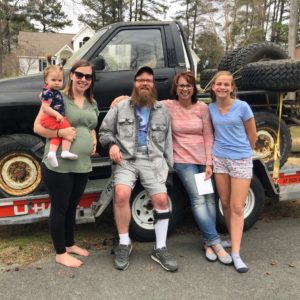 We traveled to North Carolina at the end of March for Evan to visit with old friends. Evan's dream of restoring an old Toyota truck has been on hold. A friend in NC offered to help make Evan's dream become a reality. We were in need of resources to get there and strength for Evan to make the trip. Once again, God abundantly provided through friends, family and neighbors. A nephew, who drove an hour with his family following another vehicle, loaned us a truck full of gas. A neighbor saw us struggling to load the non-driving truck onto a trailer and walked over with a pair of gloves in his hand and stayed until the job was done. When the trailer was not "quite right" we stopped at Evan's uncle's tire store and EVERYONE came out and quickly solved the problem.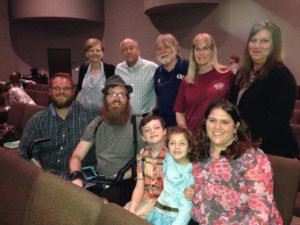 So many people took time out from their busy schedules to just love on Evan. Our time away was amazing. People showed up wherever we needed help and the homes we visited provided for our every need… meals, snacks, housing, encouragement, prayer and gas money!
April's chemotherapy treatment was a challenge to Evan's willpower and energy. Evan has had to rest a lot and physical therapy has required even more effort. Therapy is now home based as our insurance only provides seven more therapy visits for the remainder of the year. Evan puts his best effort into his treatments and therapists have helped us with home exercise plan to keep him on track.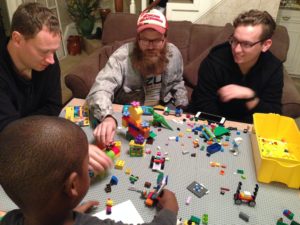 God continues to be in all the details providing for our needs including food (a neighbor showed up this week with 2 dozen eggs,) finances (through the sacrificial giving from generous people,) new tennis shoes for Evan's mom, a gift box of scrubs to replace worn out work scrubs, Wednesday meals provided by a neighborhood church, and the many texts and phone calls to check on our needs. Visits from friends who travel from near or far have kept Evan's spirit's high. Evan was able to attend a wedding and spend time with a previous youth group. Thank the Lord for Evan having the strength needed for the special event and for the love his friends poured into him.
Evan's latest round of chemotherapy side effects has left him very weak, so be praying for Evan's energy level. We are grateful that there are only three more treatments planned.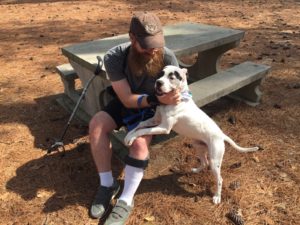 Due to obvious emotional side effects relative to a long term health situation, we began praying for a dog that could be a companion to Evan.  God blessed Evan with a dog and medical orders have been issued of Evan's need for a service dog. The service dog will aid in walking, brain injury therapy, and healthy coping of anxiety and depression.
Today marks the one year anniversary of Evan's brain surgery.  What a ride it has been!
We are so thankful for your prayers this last year and thank you for continuing to pray for our family." – Terry and Denise Moon