Surprise!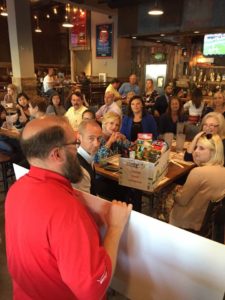 Who doesn't love a big juicy burger after a long day of work? Well, except you vegetarians, but they have veggie burgers too! We always love when Mugshots, Inverness Corners gives back to us for our Family Fun Nights where we eat dinner with a restaurant full of old and new friends. Mugshots contributed $200 towards the local ministry efforts of Grace Klein Community.
Who knew Interlinc Mortgage would surprise us with a packed house and a $7,000 check to help us feed 230 families for one month!!! Scott Elliott was surprised when they pulled out a life size check and made a presentation in front of the entire restaurant.
Talk about an awesome night of community, a true visual of friends helping friends. Oh yea, and friends even brought canned goods to stock our shelves. We feel the love Birmingham.