Trickle Out Tenfold
Spring is here, He has risen, and with the changing season, our volunteers are also rising to the challenges! This month, GKC has been blessed with a smattering of hard working, caring children, teens, and adults.
Our March finale was Samford University's Cultivate team–which consisted of eighty volunteers–who came and did a little bit of everything GKC needed to serve the community. Tasks included clearing and cleaning the basement, digging the new French drain, cleaning, sanitizing, breaking down boxes, working in the gardens, decorating the Food Delivery boxes, painting furniture, wood working, and a touch of arts and crafts. We had teams at our office, Metro CME and The House on the Hill. These college students busted their buns…and their legs…this was the first time all year we had to break out the old first aid kit, but that did not stop these busy little beavers from helping out their community.
Next, Westminster School at Oak Mountain 6th graders joined GKC in our construction for the House on the Hill and special office project. These kids brought a contagious sense of joy and were a pure delight to work with as they cleaned, yard work and admin!
Later in the same week, the 8th graders from Westminster School at Oak Mountain served at Metro CME, prepared ready made meals at Liberty Church and completed a plethora of love and support at our community office.
Shades crest Baptist Church hosted a drive for us one weekend to help us restock our Give and Take Room after we shared what we had with another community partner. They filled a trailer with wonderful donations as a way to be a blessing to Birmingham. Volunteering comes in all shapes and sizes and we are thankful for the creative efforts of every member.
The following week, Living Deeper Ministries shared their beautiful Saturday morning at the House on the Hill. In addition to painting, washing out bins, hauling and cleaning, they stayed a little longer to pray for us and bless us with a t-shirt. Small touches are the things that grow our community stronger every single day and keep our connection strong!
The MOPS group from Riverchase Baptist Church invited us to share on April 11, 2019, and we had a wonderful time discussing how we can engage our children to live out 2 Corinthians 8:8-9:15.
"And God is able to make all grace abound to you, so that having all sufficiency in all things at all times, you may abound in every good work." – 2 Corinthians 9:8
The following Saturday, the MOPS group from Riverchase Baptist Church held a rummage sale and a bake sale. They donated all the funds they raised from the bake sale, $178.22, to Grace Klein Community.
On April 14, 2019, several families from Temple Emanu-El came to The House on the Hill for Mitzvah "do kind deeds" day. They reassembled chairs, ground coffee, catalogued books for our library, deep cleaned furniture, swept, used the weed eater and cleaned the never ending settling dust. Thank God for sending new people to sweep, mop and dust.
Next, the Lord sent us Briarwood Christian School 8th graders. These young adults blessed our office by unloading donations, cleaning freezers, organizing the Give and Take Room, and making our absolutely gorgeous Trader Joe's Appreciation signs! This giggly bunch filled the office with precious joy that was able to spread through the whole office.
We wonder what our neighbors thought when a big yellow school bus arrived at our House on the Hill. As the open house date approaches, we welcomed another group of students, this time the Chelsea Ambassadors, who tackled a mighty impressive list of to-dos. The teens did not mind getting down and dirty in the yard or in the house. They covered the basement floors, moved almost two pallets of water, hauled rocks and mulch for front flower beds, decluttered the yard of debris, chopped and stacked wood, wrote thank you notes, cleaned windows and floors, broke apart pallets and hammered nails out of pallets!
For the last Saturday of the month, ladies from the Wellhouse brought the energy as many of us were completely depleted from the crazy exhausting, albeit rewarding, final renovations for The House on the Hill. The ladies tackled the yard, broke apart pallets and even moved couches. They demonstrated hope in the midst of their own personal adversities.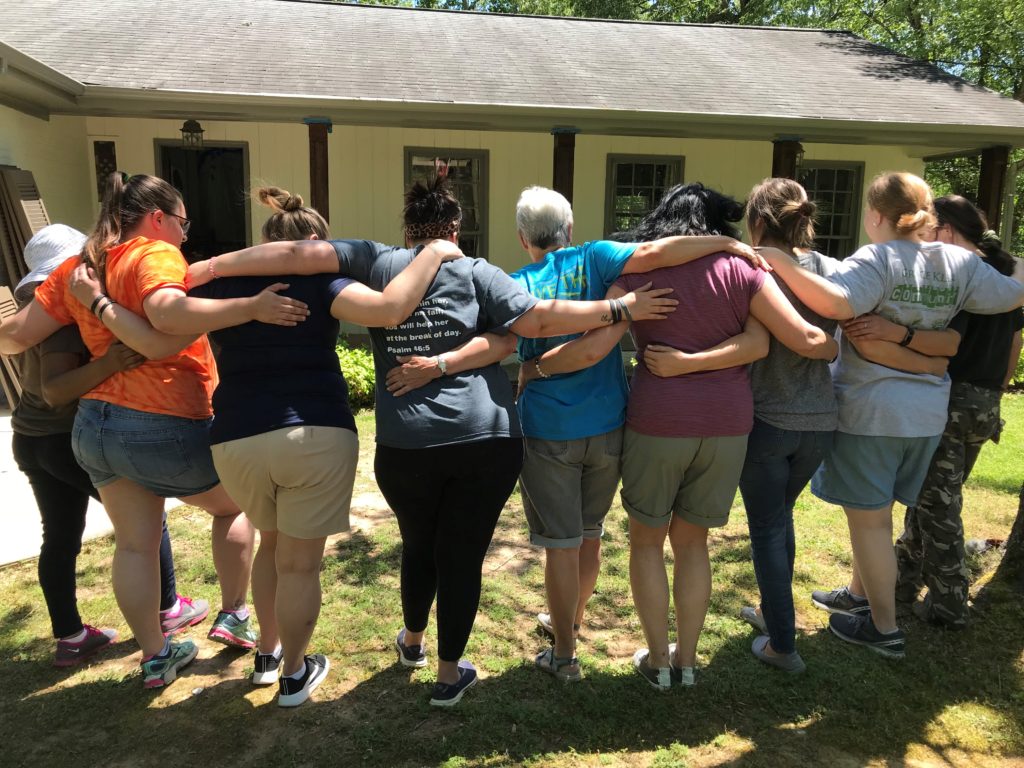 As GKC family, we cannot thank our serve team volunteers enough! All of us understand how physically hard the work can be and we deeply appreciate every ounce of effort you guys invest into our office operations, the House on the Hill project and other community endeavors. The Lord always brings the exact right volunteers at the precise time when your specific skill set and gifting is needed most, and yet we still find ourselves shocked at what we know only HE could do. We pray each of you are receiving as much from your service as we are receiving. All of a volunteer's donated time, energy, and positivity, not only improve the lives of those we serve, but also all those we serve beside, making our joint efforts trickle out tenfold, and bless hundreds of strangers after us. GKC loves you!
– Cassidy Clevenger, Samford University Social Work Intern