When Worlds "Collide."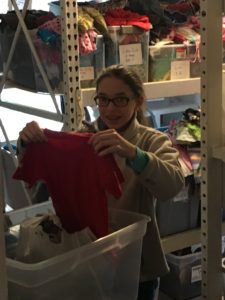 On January 27, 2018, the halls of the Grace Klein Community office were filled with energy, singing, and laughter as 24 members of the Church at Brook Hills youth ministry gathered together for a "serve day" at the Grace Klein Community office. These 7th grade students showed a true heart of generosity and service, as they split into 4 groups to address various needs around the office.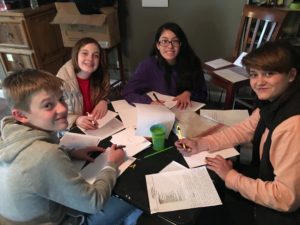 A group of young ladies worked in the Give & Take Room, preparing bags of clothing to bless some newborn babies and their mamas, as well as bagging even more clothing to bless children in Honduras. Another group used their writing talents to write "thank you" letters to give a touch of encouragement to those who generously donate to Grace Klein Community's various ministries.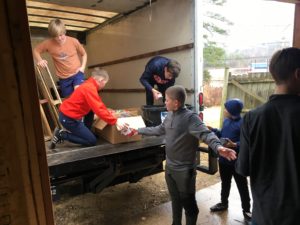 Young men formed an assembly line outside to take canned goods out of the truck and sort them on the shelves to prepare for next month's food delivery. Their enthusiasm and focus showed love to our community, as the work they did would have taken so many more hours to complete had we done it without them. Another group of young men went outside, picked up trash, rearranged the recycle bin to be able to fit more, and helped clean the downstairs area, making life so much easier for the volunteers when they break down boxes for recycling, and making the outside of the office look just a little nicer.
Fridges were washed, mopping and sweeping done, counter tops and shelves were cleaned, all by a group of volunteers that showed Christ through their great efforts, generous hearts, willingness to serve, and love for their neighbor. God will use their efforts not only to bless the volunteers who will arrive for Sunday Market and the coming week, but also families in need from Birmingham all the way to Honduras.
We at Grace Klein Community want to thank these young men and women and their leaders from the Church at Brook Hills for generously giving their Saturday afternoon to love on us. Their enthusiasm, generosity, and their servant's heart will serve as a constant encouragement to us as we continue to serve those in need.