No More Safety Pins
August 7 @ 8:00 am

-

4:00 pm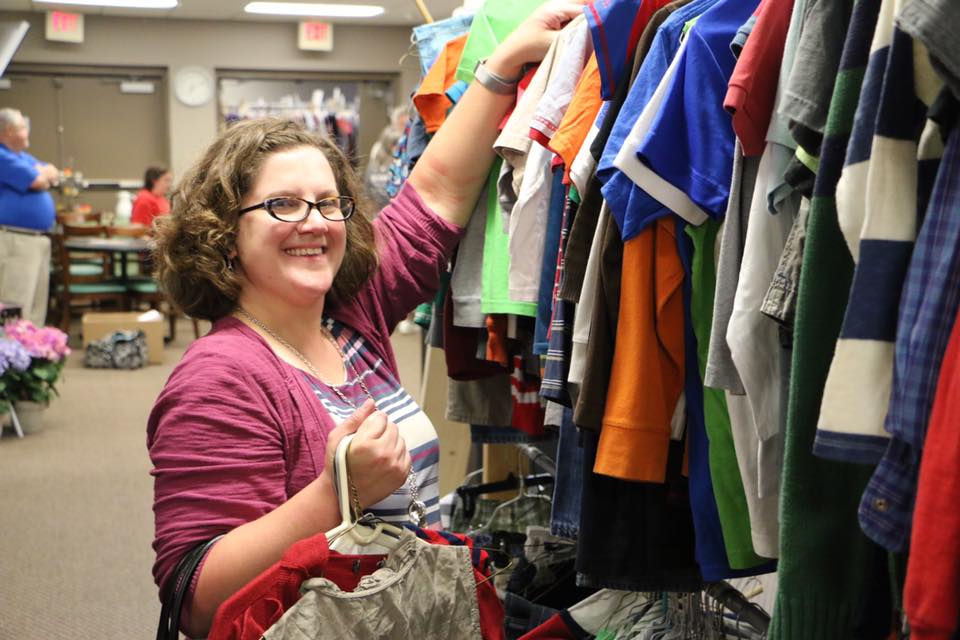 Shopping scenario: "Frazzled mama has no time for hangers, tags and safety pins. She participates in "No More Safety Pins" by bringing 50 excellent quality items and paying $25 on a "drop off date." She trades in the 50 items to receive 50 new items on the shopping weekend. If she wants 20 more items, she pays in another $25. Frazzled mama's friend comes with her without trading any items, so she pays $25 for every 20 items she selects."
$25 to participate. There is no limitation on how many items you can bring to trade. Bring 20 items, trade for 20 items. Bring 100 items, trade for 100 items.
Don't want to trade? No worries! Contribute $25 per every 20 items.
Due to "abuse" of the system in the past, no item counts can be given to a friend or family member.
Trade Days:
August 6, 2021 from 10am til 3pm (Early Shoppers Only)
August 6, 2021 from 5pm – 9pm
August 7, 2021 from 8am til 4pm
Drop Off Days:
July 13, 2021: Tuesday: 9am – 2pm
July 14 2021: Wednesday: 3pm – 8pm
July 20, 2021: Tuesday: 9am – 2pm
July 21, 2021: Wednesday: 3pm – 8pm
July 27, 2021: Tuesday: 9am – 2pm
July 28, 2021: Wednesday: 3pm – 8pm
August 3, 2021: Tuesday: 9am – 2pm
August 4, 2021: Wednesday: 3pm – 8pm
Drop Off Location: Liberty Church, 2732 Old Rocky Ridge Rd, Birmingham, AL 35216. Main Entrance.
Remember to bring your $25 entry fee when bringing your items. Checks can be made out to "Liberty United Appeal Fund, Inc. Please write "No More Safety Pins" in the memo line.
Keep in mind, your participation fee is not tax-deductible as you are receiving items.
How to be an Early Shopper:
Shoppers can pay their $25 participation fee, trade in clothing early, sign up for a volunteer shift (minimum of 4 hours,) and be allowed to shop early on Friday morning, August 6, 2021. Sign up to volunteer by emailing natalie@gracekleincommunity.com the date and times you're available to volunteer. (Volunteer hours cannot be transferred to a friend)
Small group ladies who help us sort through the high quality items will get a shop early pass too. Sign up for your small group to help sort through donated clothing and separate the fall/winter from summer/spring. All items must be in excellent quality and not damaged. Email natalie@gracekleincommunity.com to get involved.
Secure businesses to be a business sponsor of the event and you will earn vouchers for free shopping. Email natalie@gracekleincommunity.com for details.
Promote the event through social media by following our specific guidelines and secure 10 friends to trade in early for promotional and coordination shopping perks. Email natalie@gracekleincommunity.com for details.
All kids clothing, baby gear, toys and games must be in excellent condition.**
Trade reminders:
No summer clothing, accepting winter/fall clothing only * Short sleeve shirts allowed (welcome to the South)
Bag your clothing (babies, kids and maternity) and sort by size. No pricing. No safety pins.
Educational games, baby gear and excellent condition shoes will also be accepted.
Accepting new gift items for all ages
Invite all your friends to join in.
Grace Klein Community strives to build authentic community by serving and loving like Jesus. We wholeheartedly believe that meaningful, long-term relationships are a key factor in alleviating poverty. All funds raised through No More Safety Pins will benefit our local food delivery outreach program, currently serving thousands of families on a monthly basis, meeting a basic necessity by providing a healthy and nutritious food box, shared in love, resulting in lasting friendships.