The House on the Hill
"This is what the Lord says: "Look, an army is coming from the land of the north; a great nation is being stirred up from the ends of the earth." – Jeremiah 6:22
God has given clear vision that the community home, "The House on the Hill," will be used to equip and empower mamas to thrive in their singleness through an intimate relationship with Jesus, to connect resources for jobs, childcare, tangible needs and groceries, to find healing from their pain and forgiveness towards men/family relationships to grow in trusting others again, and to learn their gifts and abilities so they can also contribute to the lives of others.
WE are the army.
God birthed a dream for a team of prayer warriors for the home. Woman who will constantly have the home on their heart, be faithful in prayer, onsite or offsite, for those who would enter, and open to share words of encouragement as the Lord leads.
As a team of prayer warriors, we met on February 16, 2019, to pray over the home, meet the rest of the "army," and cover each other in prayer as 30 women attended in person or via FaceTime or WhatsApp. We brought specific prayers and petitions to the Lord for many outstanding needs for which we are joining together to pray and believe for miracles.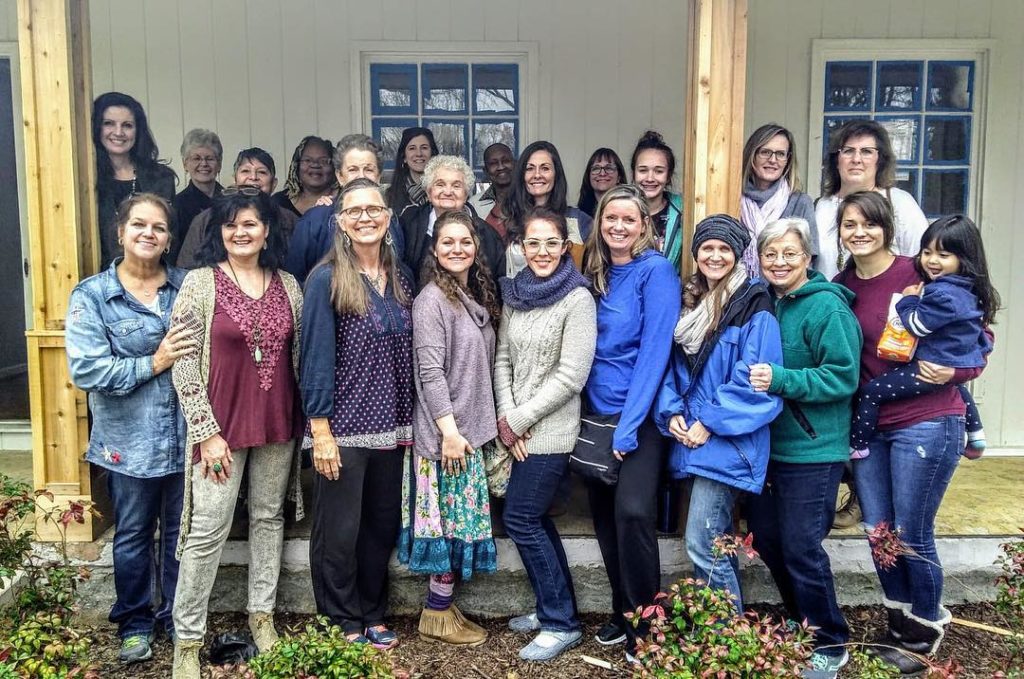 To encourage each of you, our House on the Hill prayer team is comprised of ladies from all walks of life and different places around the world. With a majority naturally in Birmingham, AL, we also have prayer warriors from South Africa, Australia, Huntsville, and Mississippi.
"For the mama, by the mama" are six words God recently shared. A house for the mamas, by the mamas. Did you know that the Realtor who sold GKC the home, is a single mama? Do you know that a dear friend who took on painting the house shutters as 'her project" in a single mama? Another single mama loaned us her pressure washer, while other single mamas came to pray over the home and gifted household items. A single mama assisted with the landscaping plan, others have helped paint. For the mama, by the mama… an initiative that naturally took place from the day we set eyes on the home.
How will the home be sustained? Our prayer is that the Lord will raise up 100 mamas (single, married and/or spiritual – see Isaiah 54) who would commit to giving $12 a month towards the community home to care for the hearts of mamas the Lord is sending our way. If you feel led to ask someone to commit to contribute toward restoring the hearts of mamas or would like to give yourself, please mail a check to:
Grace Klein Community, Inc. 1678 Montgomery Hwy #104, Birmingham, AL 35216. Memo: "For the Mama By the Mama"
Or give online via: www.gracekleincommunity.com/donate Designation: Community House
As a prayer team, we also have the opportunity to attend a free 10 week counseling at Liberty Church in Hoover. So far, each Wednesday, nine ladies from our team have been able to attend. We are learning more about one-on-one Biblical counseling through such issues as grief, anxiety, fear. We are honored that Julie Morris would give her time to teach us how to better listen and care for hurting friends.
As we move forward, Natalie Spronk is humbled that the Lord would call her to serve as host of the home, living on the main floor, and that He would use a team of women as an army of ministers for the gospel. May God receive EVERY OUNCE of Glory for this amazing cause.
Since our prayer gathering, we have had a couple of chest of drawers donated, a hope chest, closet shelving, a chandelier, two trash cans, six people have committed to give $12 per month, toiletry items have been donated, a prototype gift bag has been designed and created, a personalized "House on the Hill" note card designed, plumbing has been roughed in for the downstairs bathroom, some of the donated furniture has been painted, and we have commitments to handcraft four twin quilts, teach an art class, cooking class, exercise class and Bible Study course, install the front porch tile and consideration for completing the exterior painting. Please keep the prayers coming!!
As a community, we are blessed with hundreds of people who commit to give in diverse and unique ways for every area of the organization. We receive help for skilled labor, administration, organization, logistical challenges, storage, creativity, order, sorting, food delivery, prayer, teaching, worship, encouragement, relationship building, resourcefulness, etc.
We are blown away that 30 women made time on a Saturday afternoon to come prayer for "The House on the Hill" and for the dozen or so others that have also committed to be a dedicated part of the team.
God is stirring an army. What is your role?