I want more of You God
Do we live for the more? Are we praying for more? More of God. More of Jesus. More of the Holy Spirit. More love. More power. More kindness. More self-control. More grace. More love. More of Jesus in our lives.
The more. The irony of "more" is that's the first four letters of Jessica Moreira's last name and she is living for the MORE. Less of Jessica and more of Jesus. One of her favorite shirts says boldly, "I want more of you God." And that t-shirt gives her wide open doors to share the love of Jesus in so many different places.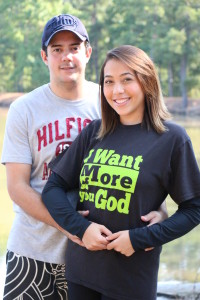 Jessica found Grace Klein Community through a Google search. She was praying about where to serve and searching for places to serve in Birmingham, AL. God had Jessica find Grace Klein Community and we are all better because of Jessica's investment in our community. She's from Brazil and came to the United States to study a few years back. During her first time in the states, she met Jesus and He has radically changed her life. She has tasted more and it leaves her with an insatiable appetite for more and more.
Jessica and her husband, Junior, first came to a Monday night prayer night with Grace Klein Community. We meet in a house and when they realized it was someone's home, they almost drove away. We are so thankful they didn't.
Serving explodes when you have a passion for God like Jessica. Serving is worship and she gives her all. She lives with open hands and gives everything. She has created specialty cakes for community events, prepared frozen meals for emergency situations, and even coordinated the amazing Brazilian Night with Horizon Church. Through such a beautiful night of worship, cultural food and cultural activities, the Brazilian Night raised over $4,000 for one of our ministry partners, Kwathu Children's Home, in Livingstone, Zambia. She prays and fasts. She seeks God because she knows the MORE is only coming if we are following His direction for our lives.
Every week you can find her in the Give and Take Room organizing donations of clothing and household items. She is praying for the people those items will bless and praying they will experience Jesus in a very personal way through a pair of jeans or some bath towels. You may find her helping harvest veggies, even though she hates mosquitos, cleaning the floor or organizing canned food. She may be the one praying for your family when you pick up your food box route every month or the one who put the oranges in the boxes that you deliver. Maybe you will find yourself at a worship night in her home or eating some leftovers beside her at prayer night.
Jessica is a loyal friend, quick to listen, intentional and caring. She is learning to put God and others first, realizing that her life is now hidden in Christ, and that she no longer lives, but Christ lives in her. Our lives have the greatest impact when we live in today's surrender.
Another amazing gift Jessica has is drawing. She will draw during worship as the Father leads. The sketches are intentional, speaking hope and life into hard moments. She never tells anyone she gives these drawings, but if you look close, you may see them on the mantle or on a wall in the pictures community friends share on social media. God is teaching her to minister through the lines of a pencil that come together to form images of worship, surrender or prayer. Jessica listens to podcasts and worship music as she quietly feasts on God's word. She realizes that the more she knows God, the more she can share Him.
God has used Jessica to give Grace Klein Community a beautiful partnership and friendship with the Brazilian church called Horizon. She is a unifier and God has used her gentleness to help blend our cultures together in a beautiful way, as we all appreciate one another. What a delight to see may Brazilians come to support the Love India night after giving of their time and resources to sponsor the Brazilian Night. We are more effective for God when we work and live together in unity.
"How good and pleasant it is when God's people live together in unity!" – Psalm 133:1