The Two Musketeers
Maybe you know people like them, friends who stick together like peas and carrots, milk and cereal, peanut butter and jelly, white on rice, or salt and pepper. If you invite one of them, you invite both of them. When you think of one, you think of the other. God made their friendship so beautiful that your brain thinks of them as a package. If you know one, you know the other. If one makes you giggle, the other does too.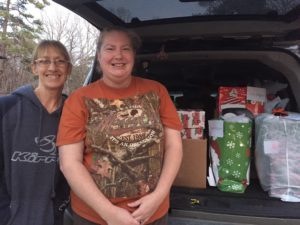 Patricia Rolden and Robin Hunt are the two musketeers. They work together, pray together, cry together, serve together and (even with a GPS) sometimes get lost together.
God allowed them to become friends when they were assigned to work a school bus together. If we had time to tell their stories, you would be amazed at how God chose them to end up on the same bus. Their stories are so similar and their hearts were crushed in the same way. They serve special needs students on their school bus, not only with transport from point A to point B, but with love, laughter and kindness.
Patricia moved to Birmingham, AL, brokenhearted, wounded, anxious and sad. She came to serve at Grace Klein Community and began her own little route of families she knew could use the help. She began to make cute little goodie baskets, filled with love. She learned what each family loved and began specifically looking for those items each week. Before she knew it, she found herself serving 9-10 families.
One Sunday, she brought Robin along to help. Robin was super quiet and almost shy, attributes that are quite hilarious to describe her when you get to know her. As a mom of three she has spunk and resolve. They would help other GKC Trade Market members load their cars or suggest meal ideas for volunteers who were coming to serve other families.
Eventually, the crowds got too big and they found themselves in the Give and Take Room helping sort donations and getting to know some other volunteers who were serving in that area.
Before we knew it, they were offering to host the Sunday GKC Trade Market where they would give out everything possible, scrub the donut containers and mop the floors. They ventured out to the garden to help weed and eventually they were braving the rooster and feeding the chickens.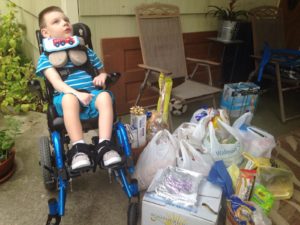 They thought of children as Christmas neared and they wondered how they could sponsor such a long list on their limited school bus wages. We asked them to give us a list and community friends helped sponsor every single child they had considered. They delivered the mounds of gifts to the families, even though it took them extra fuel to make three round trips!
Patricia and Robin's lives would never be defined as easy, carefree or without difficulty, but nothing about their struggles, challenges or suffering define them. Adversity has helped them love well, to notice hardship around them, to listen, to share laughter, and to consider others more than themselves.
What a paradox, the less we have, the more we share; the more pain we endure, the more eager we are to love; and the more rejection and loneliness we experience, the more we pursue, consider and accept others.
These ladies make us better together as they teach us the courage of vulnerability, honesty and joy. We were made to laugh, to find the good in the mess, and to trust God when we cannot see what is around that bend. They notice God in the bouquet of flowers, the leftover bag of ham, the 10 cheese macaroni, the donated dishwasher, the over-ripe bananas, the jacket that fits perfectly, the dented cans, a gingerbread house, and the hand-me-down tennis shoes.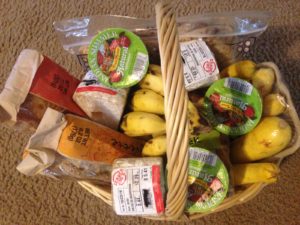 They share stories of the mama who took a box of food and said "we are going to have a feast now," about how the volunteer made their child feel so valued, of the lady who now has a jacket, of the feisty rooster they battled to gather the eggs and how a family even gave Robin's boys a bunny to thank them for valuing them. Robin shared how she would cry and tell Patricia, "you are the only friend I have," but now she has more friends and she is part of the GKC family. Patricia explains how she could not afford to serve, but how GKC has equipped her to love and serve her neighbors, and through that serving, God has healed her and reminded her of the great purposes He has for her life.
When we feel used up, worthless, wounded, rejected and alone, Jesus may send the Two Musketeers. You may run into them at the school bus stop, in the office driveway or by the recycling bin. Ask them to tell you their stories, how Jesus was with them all along, and how He has breathed fresh life into their weariness, given them new reasons to sing and restored to them the joy of the Lord. Life has not gotten easier for them, the challenges are still very much real, but their smiles are genuine and their faith is growing as they trust the One who has and continues to prove Himself faithful.
"I was pushed hard, so that I was falling, but the Lord helped me. The Lord is my strength and my song; He has become my salvation." – Psalm 118:13-14