Westminster Serve Day – April 7, 2017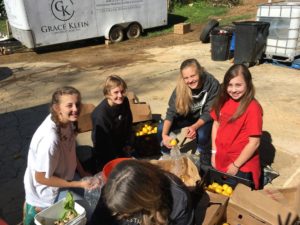 As Grace Klein Community serves in various areas, both locally and around the world, there's always an overflow of work to be done. Students from Westminster School graciously gave of their time, efforts and talents to serve with us at three serve site locations on April 7, 2017.
A number of young ladies served with volunteer, Mrs. Birdie Brooks, preparing ready to eat home cooked meals that are distributed to families in need. Liberty Church so graciously provides the use of their kitchen for, what has now become, monthly serve days.
Another team served at the Grace Klein Community office, assisting with the chicken coop the compost, sorting donations, breaking down boxes for the recycling bin, organizing and sorting the give and take room, all around yard clean up, and even cleaned out the box truck.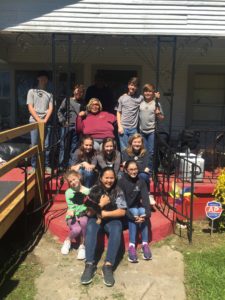 Another group served at the home of sweet Mrs. Sheila. Two replaced knees doesn't keep Mrs. Sheila down. She's an active and vital part of Grace Klein Community, always serving, loving and caring for those around her. Laura, Mrs. Sheila's sister-in-law has special needs, and unfortunately her room in the home became a "dumping ground" for everything in their house. The group organized, cleaned and discarded items that were no longer needed. They also rearranged the furniture making the home more accessible for Mrs. Sheila to move around with her wheelchair. When the team left, Mrs. Sheila was one happy camper, and Laura showed her room off to any visitor they had over in the week. She was so happy.
We're so thankful to Westminster and Grace Klein Community volunteers who assisted with the serve day.
If you would like to schedule a serve day with your child's sports team, youth group, your men's group or a handful of friends, please email amaris@gracekleincommunity.com. We always need more volunteers!